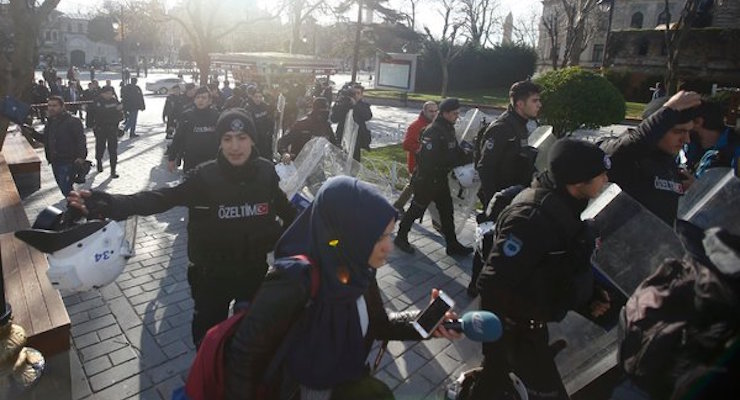 A suicide bomber believed to be Syrian and tied to the Islamic State (ISIS) killed at least 10 people and wounded 15 others in a historic district of Istanbul. The suicide bombing is the latest in a series of terrorist attacks that truck one of the most heavily trafficked areas of the city.
"Turkey is the first target of all terrorist groups," said Turkish President Recep Tayyip Erdogan in a televised address. He claimed the bomber was Syrian and referenced both the Islamic State and Kurdish separatists, but did not assign blame to either group. He added that Turkey was "fighting against all of them equally." The Sultanahmet district, which was attacked on Tuesday, was also the target of suicide bomber last January, when a Russian citizen with possible ties to the Islamic State detonated a bomb at a police station.
PPD can confirm that 9 out of the 10 people killed in Tuesday's attack were German, as the historical district in Istanbul is a popular tourist destination, particuarly for Germans. Officials and community businesses worry about the impact from terrorism, which of course, is one of the goals.
"Tourism had already dried up after last year's explosion, but after this it's game over," said Ayse Demir, a local shopkeeper, speaking to the New York Times. "No one is going to risk their lives for shopping and history."
German officials said on a government website that further violent clashes and "terrorist attacks" are expected across Turkey. Germany also urged travelers to stay away from demonstrations and gatherings, particularly in large cities.
"Today Istanbul was hit; Paris has been hit, Tunisia has been hit, Ankara has been hit before," German Chancellor Angela Merkel said. "International terrorism is once again showing its cruel and inhuman face today."
After a briefing from Efkan Ala, Turkey's interior minister, Prime Minister Ahmet Davutoglu called an emergency meeting of ministers following a briefing with Turkey's Interior Minister Efkan Ala. The meeting was held in Ankara before President Erdogan made his televised address. Mr. Erdogan offered a scathing critique of foreign scholars and writers, including Noam Chomsky, for criticism of his government.
"Pick a side," Mr. Erdogan said. "You are either on the side of the Turkish government, or you're on the side of the terrorists."