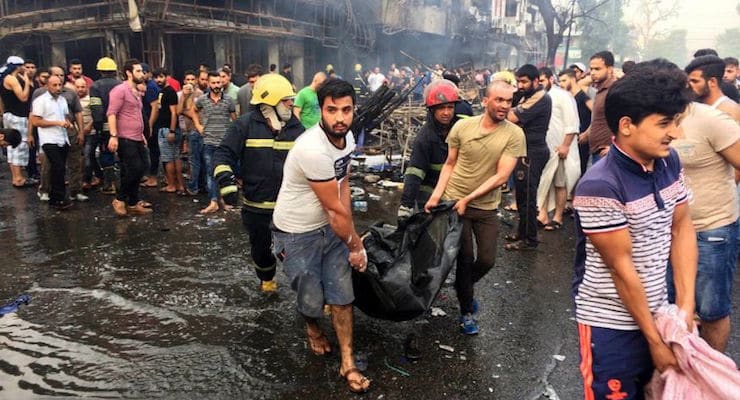 BAGHDAD, IRAQ –  At least 115 people were killed and 187 wounded on Sunday in two bombings in Baghdad, Iraqi including a large-scale terror attack claimed by the Islamic State (ISIS). The latter Islamic terrorist orchestrated bombing by ISIS killed at least 15 children in a central shopping district, officials said.
The bombings come even as the extremists allegedly suffered significant losses on the battlefield, including the fall of the city of Fallujah, which was declared "fully liberated" from ISIS just over a week ago. However, ISIS still controls Mosul, Iraq's second largest city and large swathes of territory in the country's north and west.
The more deadly of the two Islamic terror attacks occurred in the central Karada district of Baghdad. An Iraqi official said the suicide bomber blew up his explosives-packed pickup truck outside a crowded shopping center, adding the dead included 15 children, 10 women and six policemen.
The suicide bomb went off shortly after midnight, just as families and younger Iraqis were out on the streets after breaking their daylight fast for the holy month of Ramadan. Most of the victims were inside a multi-story shopping and amusement mall, where dozens either burned or suffocated to death.
"It was like an earthquake," said Karim Sami, a 35-year-old street vendor. "I wrapped up my goods and was heading home when I saw a fire ball with a thunderous bombing. I was so scared to go back and started to make phone calls to my friends, but none answered."
Sami, a father of three, also said that one of his friends had been killed, while another was wounded and yet another was still missing.
Within hours, as is becoming a new pattern, ISIS claimed responsibility for the bombing in a statement posted online. In the announcement, they said they had intentionally targeted Shiite Muslims. The militant website the statement appeared on is commonly used by Muslim extremists to convey their message and communications.
In the second attack, an improvised explosive device (IED) exploded in the northern Baghdad area of Shaab. While no group has yet claimed responsibility for the attack, it has the hallmarks of ISIS terrorists who freqeuntly target commercial districts and Shiite areas.
Only hours after the bombing, Iraqi Prime Minister Haider al-Abadi and lawmakers visited the site of the larger terror attack. Prime Minister al-Abadi, U.S. President Barack Obama and Iran, was met by an angry crowd calling him a "thief" and shouting at his convoy as it went by. The crowd pelted the al-Abadi's car with rocks, shoes and jerry cans.
The high death toll made it the second deadliest attack in the capital this year. On May 11, ISIS militants carried out three car bombings in Baghdad, killing 93 people.