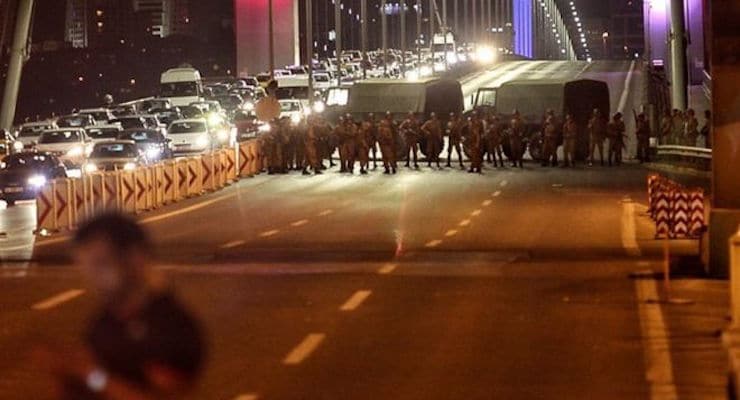 President Recep Tayyip Erdoğan arrived at Istanbul's Ataturk Airport amid large crowds of supporters after an attempted military coup on Saturday. Still, the outcome was unclear after members of the military announced that they had seized power, as reports indicated at least three explosions at the country's parliament and gunfire in Istanbul's Taksim Square.
Speaking at a news conference, Erdoğan said those who took part in the coup will be "punished accordingly," adding officials are in the process of arresting police officers involved.
Reports indicate roughly 150 people were injured. While Turkish government officials claimed that the coup attempt had been squashed, reports of continued violence and strength in cities indicate authorities did not yet have full control of the nation.
On Friday, military factions waged a coup in Turkey claiming to have "completely taken over the administration of" President Recep Tayyip Erdoğan. The group claiming to represent the nation's military issued a statement announcing that it had "completely taken over the administration of the country to reinstate the constitutional order, human rights and freedoms, the rule of law and the general security that was damaged."
A Turkish government spokesman also confirmed that an F-16 fighter had shot down a helicopter that had been commandeered by soldiers supporting the coup.
Dissenters clam President Erdoğan has been moving the country from a parliamentary system to a presidential system and he is on record as saying he would never tolerate what President Obama tolerates from the U.S. Congress. Mr. Erdoğan has expressed his preference for a more dictatorial system, citing Russian President Vladimir Putin. The Turkish military has traditionally seen itself as a guardian of the country's secular heritage. Tensions between Mr. Erdoğan and the Turkish armed forces have been growing for years.
Under Erdoğan's leadership, many have grown increasingly alarmed over the nation's move toward Islamism, or Islamic supremacy. The president holds staunchly Islamist views and has moved the country to much in favor of extremism. Indeed, following the deadly terrorist attacks in Paris, France in November 2015, soccer fans chanted "Allah Akbar" and booed during a moment of silence for the victims.
In the U.S., a statement from the White House said President Barack Obama and Secretary of State John Kerry agreed that "all parties in Turkey should support the democratically elected government of Turkey, show restraint and avoid any violence or bloodshed."
Hillary Clinton, the former secretary of state and now presumptive Democratic nominee, echoed the president's sentiment in support of Erdoğan. Worth noting, there are more journalists jailed in Turkey than in any other regional allied nation.