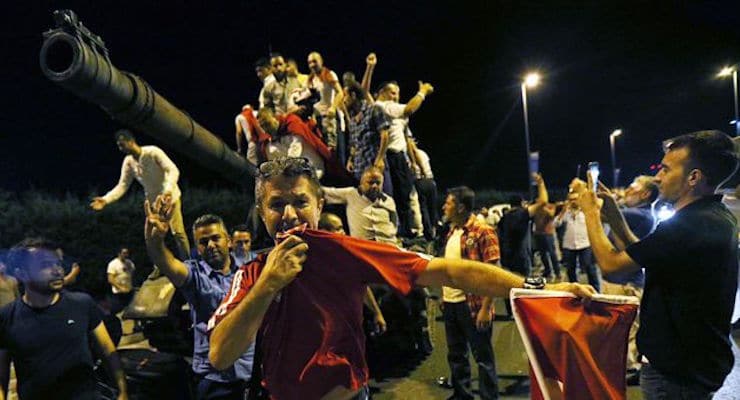 Officials from the office of Turkish Pesident Recep Tayyip Erdoğan say that the death toll in the attempted military coup has risen to 60. While Prime Minister Binali Yildirim told state-run Anadolu Agency that 120 people have been arrested, a number that was update to 336. However, Turkey's justice minister most recently pegged the number of detainees at 754.
In a press conference at Ataturk Airport, President Erdoğan said the architects of the coup attempt would "pay a heavy price" and vowed he would "not surrender this country to intruders."
"They have pointed the people's guns against the people. The president, whom 52 percent of the people brought to power, is in charge," he said. "This government brought to power by the people, is in charge. They won't succeed as long as we stand against them by risking everything."
Under Erdoğan's leadership, many have grown increasingly alarmed over the nation's move toward Islamism, or Islamic supremacy. The president holds staunchly Islamist views and has moved the country too much in favor of extremism. Now, if the coup fails as he claims, many worry Erdoğan will use the event to consolidate the very executive power he has sought for a decade.
Dissenters have also clamed President Erdoğan's move from a parliamentary system to a presidential system is evident based on his own statements. He is on record as saying he would never tolerate what President Barack Obama tolerates from the U.S. Congress. Mr. Erdoğan has expressed his preference for a more dictatorial system, citing Russian President Vladimir Putin. The Turkish military has traditionally seen itself as a guardian of the country's secular heritage. Tensions between Mr. Erdoğan and the Turkish armed forces have been growing for years.
On Friday, military factions made their move and waged a coup claiming to have "completely taken over the administration of" President Recep Tayyip Erdoğan. The group said to represent the nation's military issued a statement announcing that it had "completely taken over the administration of the country to reinstate the constitutional order, human rights and freedoms, the rule of law and the general security that was damaged."
Tanks and troops rolled into major cities throughout Turkey, locking down roads and government installations. A warplane struck parliament before being shot down, while troops stormed the headquarters of Turkey's state broadcaster. A Turkish government spokesman also confirmed that an F-16 fighter had shot down a helicopter that had been commandeered by soldiers supporting the coup.
"All involved in this will pay the highest price," Mr. Erdoğan told CNN Turk, where he spoke via Face Time. "I am calling on our nation. Go to squares, let us give them the best answer."
The highly organized Muslim Brotherhood and allied groups, including Islamists mosques, organized mass protests that resulted in civilians taking to the streets in protest.
In an email, the forces behind the coup vowed to keep fighting.
Meanwhile, Erdoğan also admitted that his general secretary was abducted and that he did not know the whereabouts of the chief of the military staff. He also said that his vacation residence in the holiday resort of Marmaris had been bombed earlier that evening.