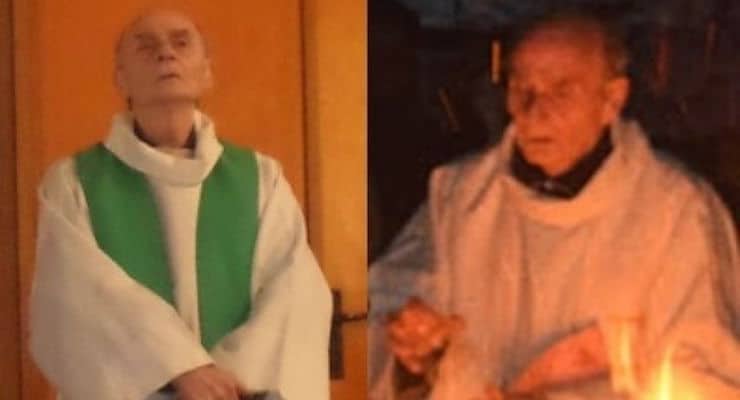 The Islamic State (ISIS) claimed responsibility for two knife-wielding terrorists slicing the throat of an 84-year-old priest in France. The Islamic terrorists, who had pledged allegiance to ISIS, shouted "Allahu Akbar" as they murdered Father Jacques Hamel and critically wounded at least one other person Tuesday morning near the Normandy city of Rouen.
ISIS' Amaq news agency said the heinous Islamic terror attack was carried out by two Islamic State "soldiers,"were later shot and killed by police.
"[ISIS] has declared war on us," French President François Hollande said Tuesday. "We must fight this war by all means, while respecting the rule of law — what makes us a democracy."
Interior Ministry spokesman Pierre-Henry Brandet said Father Hamel was dead at the scene and, another person who has been identified as potentially being a nun, was clinging to life. The killing Tuesday inside the Catholic church, which was located in the small northwestern town of Saint-Etienne-du-Rouvray, "is obviously a drama for the Catholic community, for the Christian community," Brandet said
"Everyone knew him very well," Claude-Albert Seguin, 68, said of Hamel. "He was very loved in the community and a kind man."
Officials believe the church was on a "hit list" discovered by law enforcement at the residence of Sid Ghlam, a would-be ISIS attacker. He was believed to be planning "imminent attacks" in France when investigators arrested him in April 2015. Officials allegedly uncovered an arsenal of weapons and found that Ghlam was talking with someone in Syria who had ordered him to strike specific churches — including the one in Saint-Etienne-du-Rouvray.
Mohammed Karabila, president of the Regional Council of the Muslim Faith for Haute-Normandie, said at least one of the Islamic terrorists was on the radar of French law enforcement. He had recently traveled to Turkey.
"The person that did this odious act is known, and he has been followed by the police for at least a year and a half," he told the AP. Karabila said the attacker "went to Turkey and security services were alerted after this."
The attackers were not immediately identified, but officials say they entered through the back door of the church and took the priest, two nuns and two parishioners hostage during morning Mass. Police responded and later confirmed that the terrorists had been "neutralized." While three hostages were rescued in good condition, another was taken away on a stretcher.
French prosecutors said one unnamed person had been detained in connection with the assault, though they did not offer details on their role in the attack. President Hollande and Interior Minister Bernard Cazeneuve were visiting the northwestern town of Saint-Etienne-du-Rouvray where the hostage-taking took place.
Brandet added that the RAID special intervention force was searching the church and its perimeter for possible explosives ahead of the arrival of a terrorism investigation team.
Rev. Federico Lombardi, a spokesman for the Vatican, said in a statement Tuesday that the attack was more brazen and damaging than previous attacks on clergy "because this horrific violence took place in a church, a sacred place in which the love of God is announced, and the barbaric murder of a priest and the involvement of the faithful."
Lombardi called the attack "more terrible news, that adds to a series of violence in these days that have left us upset, creating immense pain and worry." He said Pope Francis expressed "pain and horror for this absurd violence, with the strongest condemnation for every form of hatred and prayer for those affected."
France is currently on high alert after an attack in Nice on Bastille Day — July 14 — that killed 84 people and a string of deadly attacks last year claimed by ISIS that killed 147 victims.