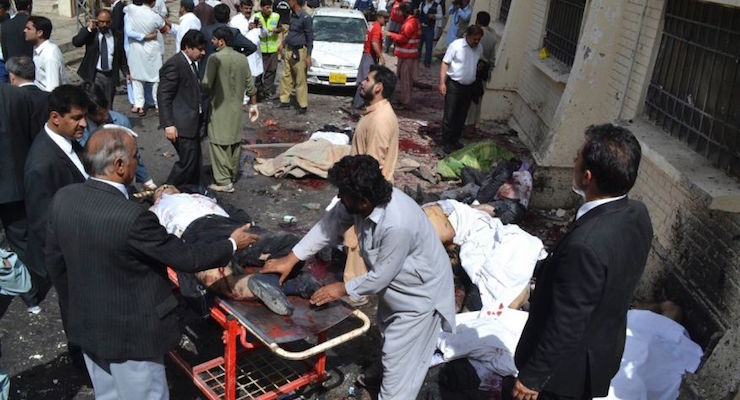 At least 63 people were killed and 90 wounded after a bomb went off at a government-run hospital in the city of Quetta, Pakistan on Monday. Sanaullah Zehri, the chief minister in the Baluchistan province, said it appears to have been a suicide attack, though the investigation hasn't yet drawn any formal conclusions.
Zahoor Ahmed Afridi, a senior police official, said the bomb went off shortly after the body of a prominent lawyer killed in a shooting attack earlier in the day was brought to the hospital. While it is still unclear whether the events were related, he said nearly 100 lawyers and other people had gathered at the location at the time of the explosion. A cameraman working at a Pakistani news channel covering the event was also killed.
None of the usual suspects, including the Pakistan Taliban and Islamic State, have claimed responsibility for the bomb, yet. The explosion went off at the gates of the emergency ward, despite reports claiming it was at the main gate. Sarfraz Bugti, the provincial interior minister, denounced the attack as an "act of terrorism."
Prime Minister Nawaz Sharif expressed his "deep grief and anguish over the loss of precious human lives" in the bombing, and vowed to bring those responsible to justice. Prime Minister Sharif also said he asked the local authorities to increase security in Quetta, which is located in a province long-targeted by Islamic terrorism.
"No one will be allowed to disturb the peace in the province that has been restored thanks to the countless sacrifices by the security forces, police and the people of Baluchistan," he said in a statement.