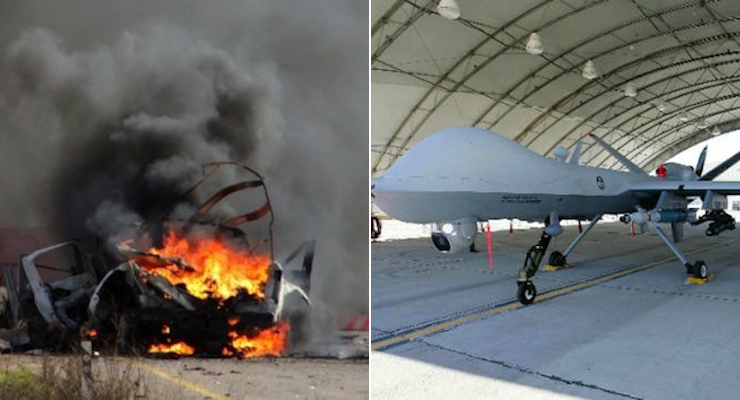 Newly released footage from last week shows the Iranian backed militia group Hezbollah in Syria conducting its first drone strike ever. The Lebanese terror group used an unmanned aerial vehicle (UAV) to drop cluster bombs on three Syrian rebel positions in the village of Aleppo. The video footage was released on social media on Tuesday by a Hezbollah-affiliated media outlet.
The attack marks the first time Hezbollah used armed drones to carry out airstrikes, despite having used drones for reconnaissance or one-use "kamikaze" style attacks in the past. However, it is also known the Islamic State (ISIS) is in possession of reconnaissance drones and western officials fear the group has bomber drones, as well.
"The Government has evidence that Daesh has used small, commercially available unmanned aerial vehicles in Syria and Iraq to extend their surveillance capability, produce propaganda material and carry small improvised explosive devices" UK Foreign Office Minister Baroness Anelay said in July.
On 4 December 2011, an American Lockheed Martin RQ-170 Sentinel drone was captured by Tehran near the city of Kashmar in northeastern Iran. The Iranian government claimed that it was hijacked and guided down by its cyber-warfare unit. The U.S. government initially denied the claims, though President Barack Obama finally acknowledged that the downed aircraft was in fact a U.S. drone after alternative media pressure mounted. In an embarrassing moment for the administration, he requested that Iran return it.
Only three years later, the group claimed to have attack drone capabilities amid rumors of Tehran's efforts to reverse engineer the technology.
"Hezbollah drones for the first time bombed the headquarters of the terrorist al-Nusra Front at Lebanon's border with Syria, killing and wounding tens of the terrorists," the Iranian Fars news site reported in September 2014.
A NATO chemical weapons expert warns that such drones could be fitted with chemical weapons such as World War One mustard gas, while former head of the British navy Admiral Lord West warned
"If they are using them there, then in fact they are probably even easier to use them here because you can get them so much easier," Admiral Lord West, the former head of the British navy warned.
In July, the U.S. Pentagon requested an additional $20 million to combat Islamic State drone capabilities.
[brid video="58757″ player="2077″ title="WATCH Hezbollah Conducts First Drone Strike in Syria"]