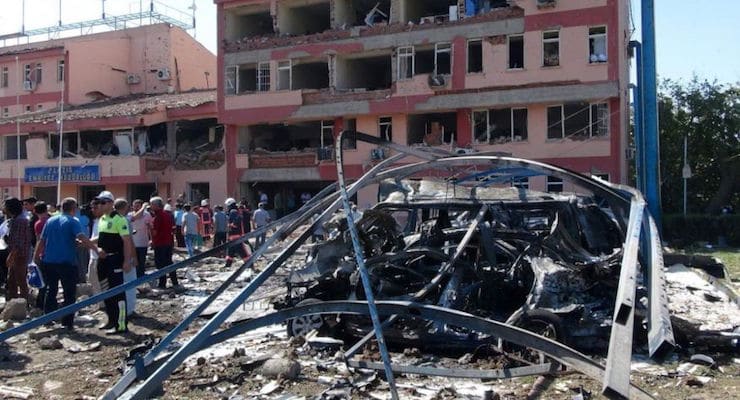 Two car bombs targeting police stations in Turkey this week killed at least six people and wounded at least 219 others, officials said Thursday. A police officer and two civilians were killed by a car bomb on a police station in the eastern province of Van late Wednesday, and at least 73 other people–including 53 civilians and 20 police officers–were wounded.
Authorities claim the attack was perpetrated by the Kurdistan Workers' Party, or the Islamo-leftist group known as PKK. PKK commander Cemil Bayik last week threatened to increase the number of targeted attacks against police in Turkish cities. Gov. Murat Zorluoglu said early Thursday that another car bombing struck police headquarters in the eastern Turkish city of Elazig, killing at least 3 police office officers and wounding 146 others. At least 14 of them were listed as being in serious condition.
Elazig Deputy Mayor Mahmut Varol said the explosion went off on the grounds of the police headquarters and set cars parked nearby on fire. Video footage showed cars were overturned and the windows of the four-story building was blown out, while smoke filled the streets in the area. The violence has escalated since the peace process failed to secure an agree between the PKK and Turkey's security forces last year.
According to state-run Anadolu Agency, more than 600 Turkish security personnel and thousands of PKK members have been killed. Human rights groups say hundreds of civilians have also died as a result of being caught in the middle of the violence. Turkey and its allies characterize the PKK, which began fighting for autonomy in southeast Turkey in 1984, a terrorist organization.