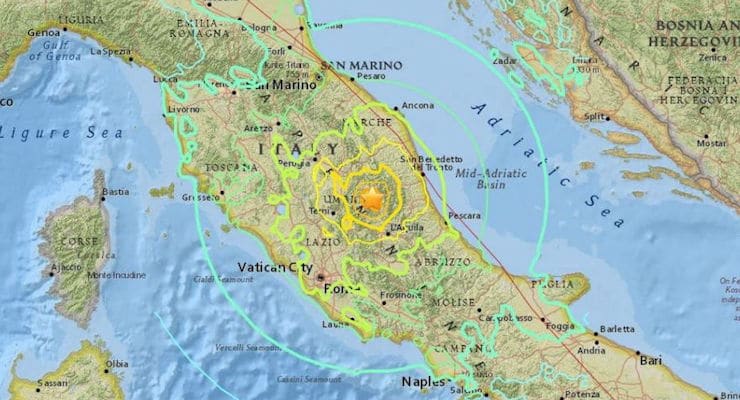 The death toll from the 6.2-magnitude earthquake in central Italy early Wednesday has risen to 247 people, the Italian Civil Protection Agency said on Thursday. The quake hit at 3:36 a.m. local time and was felt across most of central Italy, including in Rome and Florence, sending people running into the streets and cutting power.
The U.S. Geological Survey said the epicenter was located at Norcia, which is roughly 105 miles northeast of Rome, and it had a depth of about 6 miles.
Rescue workers, a group including Italian soldiers, police and other emergency crews continue to aid the injured and search for survivors in the hardest-hit towns of Amatrice, Pescara del Tronto and Accumoli, located close to the epicenter.
The number of victims had been rising steadily throughout the day on Wednesday as rescue crews searched the rubble for dozens of missing people.
"There's nothing left, it's unbelievable," said Luisella Cruciani, 69 years old, who escaped her home in Amatrice by climbing out of her window.
Aerial photographs of the town showed it was almost completely leveled.
Meanwhile, Prime Minister Matteo Renzi is attempting to to respond more efficiently than Rome has in the past to natural disasters. In leftist Italy, rebuilding and providing for the victims at the same time has alluded the government, with efforts being overshadowed by corruption and scandal.
"Italy weeps for its fellow countrymen," Prime Minister Renzi said in Amatrice Wednesday afternoon, vowing his government wouldn't "leave anyone alone, no family, no town, no community."