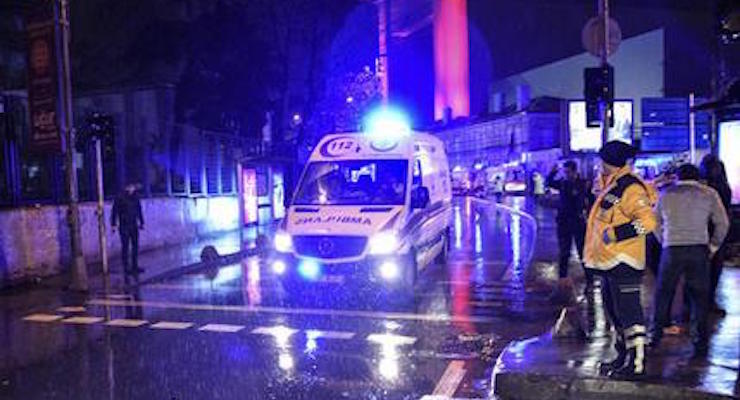 The suspect in the terror attack at an Istanbul nightclub on New Year's that killed 39 was caught in the city after a manhunt lasting more than 2 weeks, the Hurriyet newspaper reported. The Islamic State (ISIS) claimed responsibility for the attack at Reina nightclub, a popular upscale nightclub in the Ortakoy district that is frequented by local celebrities, including singers, actors and sports athletes.
The Aamaq News Agency said the attack was carried out by a "heroic soldier of the caliphate who attacked the most famous nightclub where Christians were celebrating their pagan feast."
The man, who was reportedly operating under the cover name Abu Muhammed Horasani, was caught in a hideout with his four-year-old son, according to Hurriyet. The reports could not immediately be confirmed.
While the Islamic terrorist killed a policeman and another man outside the nightclub before entering, the attack appears to have targeted foreigners. Of the 600 people celebrating inside, nearly two-thirds of the dead were foreigners, though many of them were from the Middle East. In addition to the fatalities, roughly 70 others were wounded.
Horasani was described as being of Uzbek origin by the Haberturk website, which said he was caught at a housing complex in Esenyurt district, on the European side of the city. Reports claimed three people were in the apartment where he was caught and five people altogether were detained in the operation, including the alleged terrorist and three women.
The state-run Anadolu news agency said simultaneous raids were being conducted on other cells linked to the group.
With the increased number of terror attacks over the past year, security had been heightened in Turkish cities, with police barring traffic leading up to key squares in Istanbul and the capital Ankara. In Istanbul, alone, some 17,000 police officers were on duty at the time, some of them disguised as Santa Claus and others as street vendors.
Prime Minister Binali Yildirim said the terrorist left a gun at the club and was able to escape by "taking advantage of the chaos" that followed the shooting. Authorities believe he changed his clothes before exiting the club. Some customers reportedly jumped into the freezing waters of the Bosporus to escape the hail of bullets. Sources tell People's Pundit Daily that authorities believe the gunman comes from a Central Asian nation, likely Uzbekistan or Kyrgyzstan.