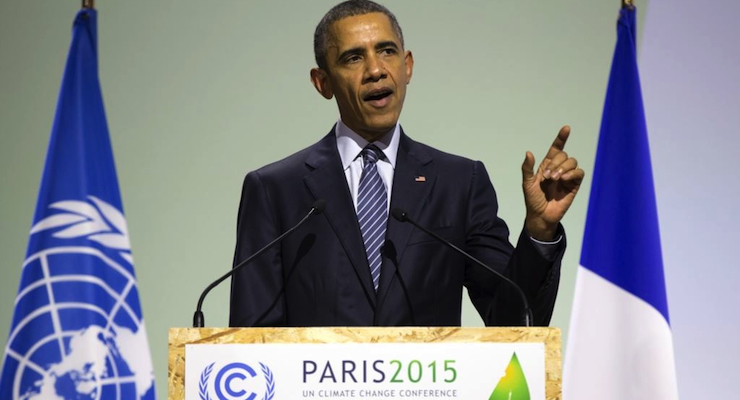 A high-level whistleblower at the National Oceanic and Atmospheric Administration (NOAA) said they used a flawed global warming study to influence the Paris Climate Change Conference. This so-called evidence touted at the conference was not only designed to influence world leaders at the summit but based on misleading, "unverified" data.
Dr John Bates, a top NOAA scientist with an impeccable reputation, has given The Daily Mail "irrefutable evidence" that NOAA–the world's leading source of climate change data–intentionally rushed to publish a landmark paper that exaggerated global warming.
The timing of the released report was also intended to bring about the historic Paris Agreement on climate change.
Dr Bates, one of two Principal Scientists at the National Centers for Environmental Information (NCEI), accused the lead author of the paper of "insisting on decisions and scientific choices that maximized warming and minimized documentation."
According to the Mail report, Thomas Karl, who was until last year director of the NOAA section that produces climate data, engaged "in an effort to discredit the notion of a global warming pause, rushed so that he could time publication to influence national and international deliberations on climate policy."
The NOAA report allegedly concluded that the "pause" or "slowdown" in global warming during the period from 1998 to the present–which was revealed by UN scientists in 2013–never actually occurred. Further, they cautioned that world temperatures had been rising even faster than scientists previously believed. The report was cited repeatedly by climate change-believing politicians, the mainstream media and policy-making think tanks.
Dr. Bates designed an internal review process for such studies, which he said was bypassed. The flawed conclusions of what is known as the Pausebuster paper were widely cited by delegates at the Paris Climate Change conference. Mr. Karl had a longstanding relationship with then-President Barack Obama's chief science adviser, John Holdren, giving him a direct line of influence to the White House.
"They had good data from buoys. And they threw it out and 'corrected' it by using the bad data from ships," Dr. Bates told The Mail. "You never change good data to agree with bad, but that's what they did–so as to make it look as if the sea was warmer."
[social-media-buttons]