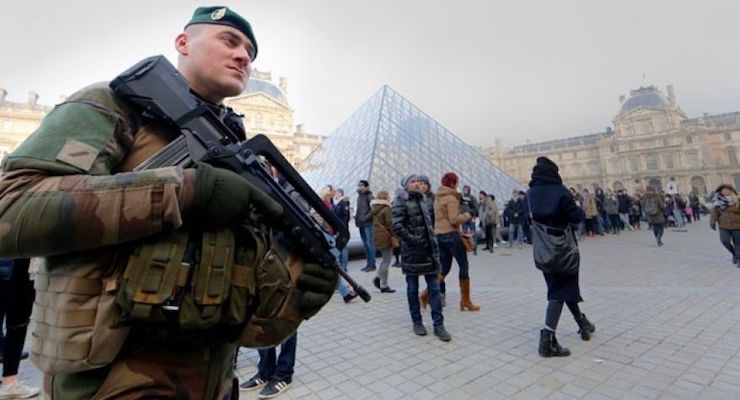 A French soldier opened fire Friday outside the Louvre Museum in Paris, France after he was attacked by a man with a machete shouting "Allahu akhbar." While the details of his injuries are unknown, the solider was slightly wounded during the attack.
The attacker was carrying 2 backpacks, but neither of them were filled with explosives. Though authorities say they believe the suspect acted alone, Reuters reported that a second person had been detained in connection with the attack.
"We are dealing with an attack from an individual who was clearly aggressive and represented a direct threat, and whose comments lead us to believe that he wished to carry out a terrorist incident," Michel Cadot, the head of the police force, said.
Reuters reported that the head of police said authorities believe the suspect wanted to carry out a terror attack. A police official said the soldier responded with five shots, adding the suspect was in grave condition.
"The soldier fired five bullets," Cadot said. "It was an attack by a person who represented a direct threat and whose actions suggested a terrorist context."
Soldiers on patrol are part of security measures that have beefed-up in the wake of terror attacks in France in 2015 and 2016. A series of attacks over the past two years that have killed more than 230 people, which have been claimed by the Islamic State.
The most recent deadly attack took place in the southern city of Nice when a man drove a truck into a crowd on the seafront killing 86, while the deadliest was carried out by an Islamist who traveled to France posing as a Syrian refugee.
The French Interior Ministry tweeted that a serious security incident is taking place at museum. Police have reportedly cordoned off access to the museum.
The museum in the center of Paris is one of the French capital's biggest tourist attractions.
A spokewoman for the museum told The Telegraph that it was "closed for the moment" but would not confirm reports it had been evacuated.