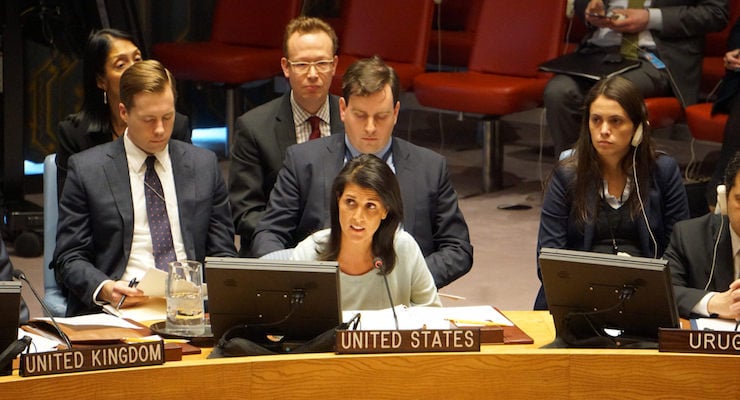 U.S. Ambassador Nikki Haley responded to a request by Bolivia to meet in private by telling them and the world that nations planning on defending Syria will have to do so in public.
"This morning, Bolivia requested an emergency UN Security Council meeting to discuss the events in Syria. It asked for the discussion to be held in closed session. The United States, as president of the Council this month, decided the session would be held in the open," Ambassador Haley said. "Any country that chooses to defend the atrocities of the Syrian regime will have to do so in full public view, for all the world to hear."
President Donald J. Trump on Thursday ordered the U.S. military to strike airfields near the chemical weapons storage facility at Shayrat Airbase in response to one of the deadliest attacks in the country's 6-year civil war. The chemical weapons attack claimed the lives of an estimated 72 people and wounding at least 400 others.
On Wednesday, Ambassador Haley warned the international community that there are times when states are compelled to take their own action. She railed U.N. member nations for consistently failing in its duty to act collectively and in response to heinous actions by rogue nations.
The Kremlin said in a statement Friday that the U.S. military strike carried out on Syria is "aggression against a sovereign state in violation of international law." The statement added that Vladimir Putin believes the U.S. authorized the strikes under "far-fetched pretext."
Speaking at the U.N. Security Council Meeting on the situation in Syria on Friday, Ambassador Haley took aim at Russia for "covering up for the Assad regime" and hindering international cooperation.
"Every time Assad has crossed the line of human decency, Russia has stood beside him. We had hoped the Security Council would move forward, but Russia made it known, as it has done seven times before, that it would use its veto once again, covering up for the Assad regime.