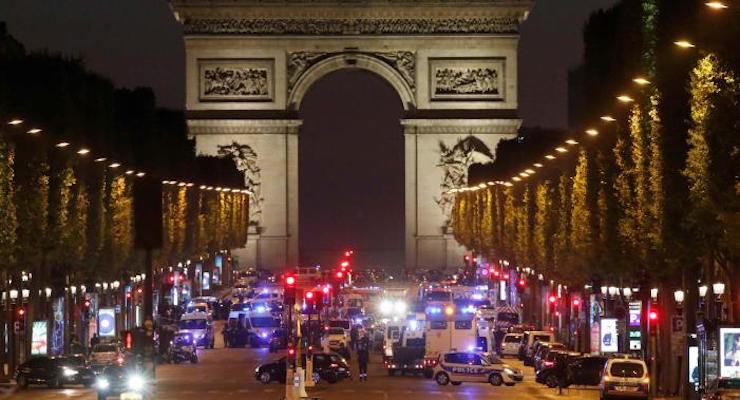 The Islamic State (ISIS) claimed responsibility for a gunman who shot and killed a policeman on Champs Elysees Avenue in Paris, France. Two others were wounded in what François Hollande said was a "cowardly killing" by man known to authorities and suspected of Islamic extremism.
Champs Elysees Avenue is the wide boulevard that leads away from the Arc de Triomphe and is typically crowded with Parisians and tourists during the evening. Now, it remains empty and heavily guarded by armed security forces and police.
Paris Prosecutor Francois Molins said the man had been identified, though they did not release his name and investigators were still assessing if he had accomplices. People's Pundit Daily has learned that he was on the so-called "S List," a thousands-strong list compiled by French law enforcement of persons suspected of radicalism.
A police arrest warrant issued earlier on Thursday claimed the man had come into France by train from Belgium on Thursday. It was unclear if that man was the attacker or linked to the shooting, but Belgium is known for specific community pockets of radicals.
"The sense of duty of our policemen tonight averted a massacre … they prevented a bloodbath on the Champs Elysees," Interior Minister Matthias Fekl told reporters.
Officers searched the home of the dead attacker in a suburban town east of Paris, according to sources.
"A little after 9 PM a vehicle stopped alongside a police car which was parked. Immediately a man got out and fired on the police vehicle, mortally wounding a police officer," Interior Ministry spokesman Pierre-Henry Brandet said.
France has become a target for a rash of Islamic terror attacks committed by either Mideast refugees, Islamists posing as refugees or young men who grew up in France and Belgium after their parent immigrated to Europe. The nation has lived lived under a state of emergency since 2015 and Islamic terrorists have killed more than 230 people in the past two years, alone.