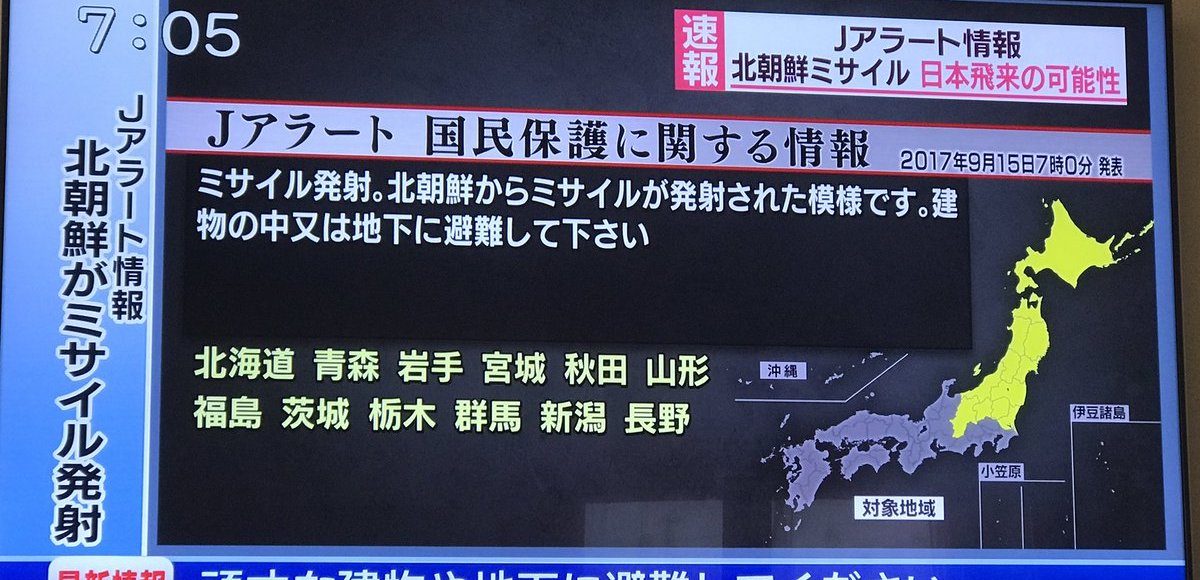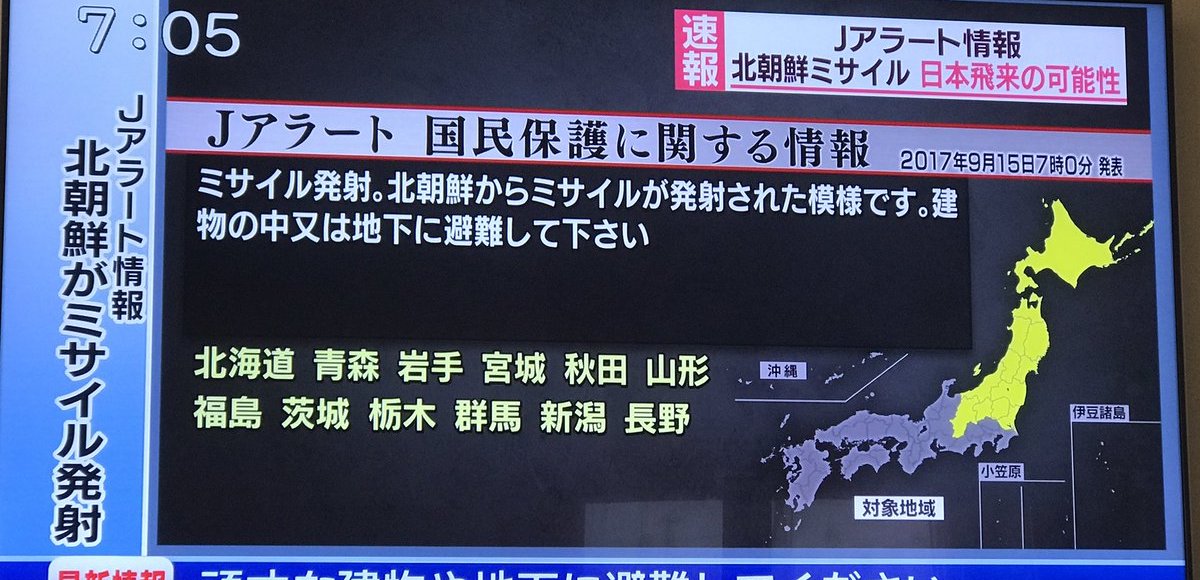 North Korea fired another ballistic missile on Friday that flew over northern Hokkaido in Japan before splashing down in the Pacific Ocean, multiple officials confirm. The launch, which U.S. officials confirmed was a model KN-17 intermediate ballistic missile, comes after several rounds of sanctions and increases tension on the Peninsula after Pyongyang recently test of a powerful nuclear bomb.
Japan Chief Cabinet Secretary Yoshihide Suga said at a press conference the ballistic missile landed about 2,000 km (1,240 miles) east of Hokkaido. South Korea officials said it reached an altitude of roughly 770 km (480 miles) and flew 3,700 km (2,300 miles), easily enough to reach the U.S. Pacific territory of Guam.
"These repeated provocations on the part of North Korea are unpermissible and we protest in the strongest words," Suga said.
Japan's emergency alert system warned residents to take shelter.
Last month, North Korea fired another ballistic missile from a similar area near the capital Pyongyang that flew over Hokkaido before splashing down into the ocean, as well. Preliminary estimates put the new launch on par with the last.
An official from U.S. Pacific Command said the launch did not present a threat to the United States or Guam.
"Our commitment to the defense of our allies, including the Republic of Korea and Japan, in the face of these threats, remains ironclad," U.S. PACOM said in a statement. "We remain prepared to defend ourselves and our allies from any attack or provocation."
Australia, a key and vocal ally of the U.S. in the Pacific, condemned the latest launch by North Korea.
"This is another dangerous, reckless, criminal act by the North Korean regime, threatening the stability of the region and the world and we condemn it, utterly," Australian Prime Minister Malcolm Turnbull said. "This is a sign, I believe, of their frustration at the increased sanctions on North Korea, recently imposed by the Security Council. It's a sign that the sanctions are working."
The U.N. Security Council on Monday again voted unanimously on a U.S.-led resolution imposing a new round of sanctions on Pyongyang, banning textile exports and capping fuel supplies.
The U.S. and South Korea are still technically in a state of war with North Korea as a result of the 1950-53 Korean conflict ended with a truce and not a peace treaty.