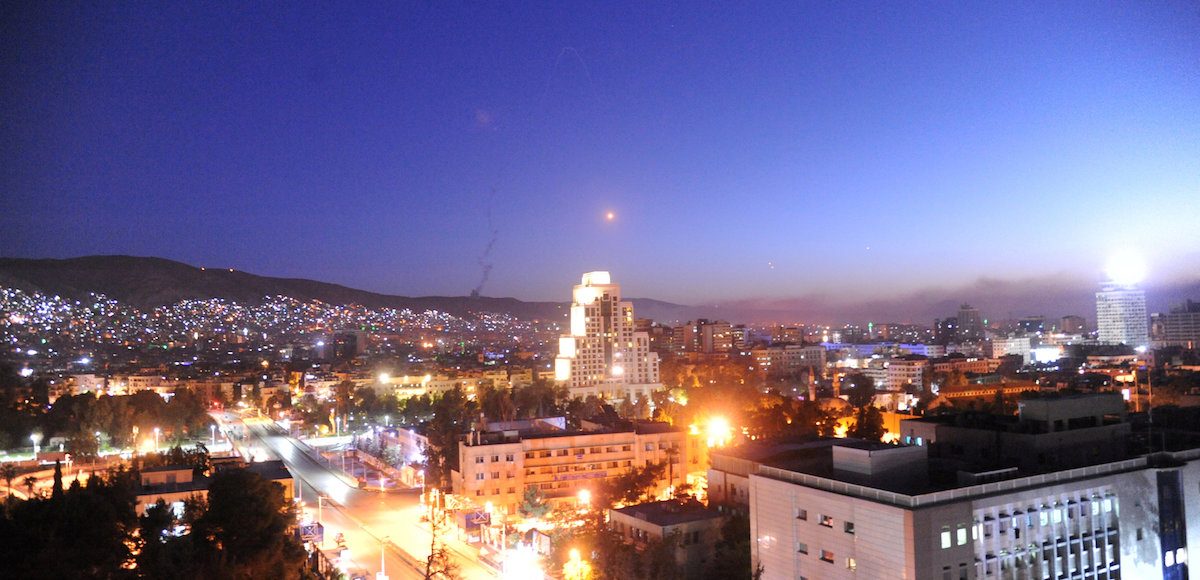 The U.S. Pentagon said Saturday that the allied missile strikes "significantly crippled" the Syrian chemical weapons program. The U.S., United Kingdom (UK) and France fired 105 strikes and successfully hit all three targets intended to hinder President Bashar al-Assad's ability to make chemical weapons.
"I think we dealt them a severe blow," said Marine Corps Lt. General Kenneth McKenzie, Director of the Joint Chiefs of Staff. "We've attacked the heart of the Syrians' chemical weapons program."
Lt. General McKenize identified Barzah Research and Development, the Him Shinshar Chemical Weapons Storage Site and the Him Shinshar Bunker Facility as targets. He also said 105 missiles were launched by air and sea. In Barzah, the target appeared to have been completely destroyed. Footage from Syrian state TV station al-Ikhbariya showed smoke billowing from piles of rubble, and a parked bus parked outside the facility had been destroyed.
The strikes in Douma were in response to the Assad regime launching a chemical weapons attack on the town on April 7, a suburb located 10 miles east of Damascus. At least 40 people were killed and more than 500 people, mostly women and children, were injured.
"It's intolerable for a civilized nation to use chemical weapons," Pentagon spokeswoman Dana White said Saturday. "This is a regime that murders its people daily."
The U.S.-led strikes were launched from aircraft and ships, including those in the Red Sea and eastern Mediterranean Sea. Lt. General McKenzie also said he has no reports of civilian casualties.
Syrian state-run media claimed to have intercepted 13 tomahawk missiles. But Pentagon officials said even though Syrian air defenses were engaged at the onset of the attack, the allied forces' attack was met with no resistance.
The latest chemical weapons attack came almost exactly one year after the U.S. launched tomahawk missiles in response to the previous use of chemical weapons in Khan Sheikhoun. That attack claimed the lives of nearly 100 people.
They are also raising renewed criticism of the Obama Administration.
In 2013, then-Secretary of State John Kerry claimed to have negotiated a deal with Russian President Vladimir Putin, in which President Assad allegedly agreed to give up his chemical weapons stockpile under the supervision of the Russians. The Obama Administration touted the deal as a great diplomatic victory.
"With respect to Syria, we struck a deal where we got 100% of the chemical weapons out," Mr. Kerry erroneously claimed in July 2014. By December 2016, Mr. Obama also erroneously claimed the deal "eliminated Syria's declared chemical weapons program."
White House sources tell People's Pundit Daily (PPD) that President Trump was very pleased with the retaliatory strike. On Twitter, he thanks allies and praised the military's performance.
"A perfectly executed strike last night," President Trump tweeted. "Thank you to France and the United Kingdom for their wisdom and the power of their fine Military. Could not have had a better result. Mission Accomplished!"
A perfectly executed strike last night. Thank you to France and the United Kingdom for their wisdom and the power of their fine Military. Could not have had a better result. Mission Accomplished!

— Donald J. Trump (@realDonaldTrump) April 14, 2018
"So proud of our great Military which will soon be, after the spending of billions of fully approved dollars, the finest that our Country has ever had," he also tweeted. "There won't be anything, or anyone, even close!"
So proud of our great Military which will soon be, after the spending of billions of fully approved dollars, the finest that our Country has ever had. There won't be anything, or anyone, even close!

— Donald J. Trump (@realDonaldTrump) April 14, 2018