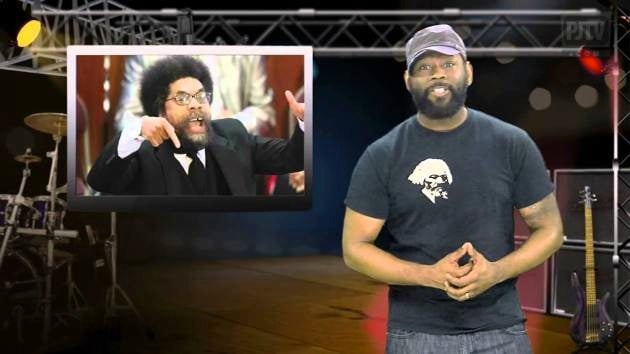 I have long argued, as our founders did, that education and knowledge are essential to preserving liberty in a society governed by a popular-based government. The principle is simple: If we are ignorant to the ways and nature of government by men, then we are unable to understand the dangers posed by big government, we become easily susceptible to its false promises and blind to its true motivations.
Black History Month will come and go, again, but what will remain is the truly tragic condition of the black community and its stubborn support of the Democratic Party. That is, unless conservatives step up and change it.
In this episode of ZoNation, Zo looks at what Carter G. Woodson was celebrating when he pioneered "Negro History Week," the precursor to Black History Month. Zo asks the very hard, yet simple question: "Has more of the black community become what Carter envisioned as a cause for celebration?"
Is there anyone, any black leader who will stand up to make the argument that the black community is headed in the right direction, with skyrocketing out-of-wedlock birthrates, chronic high unemployment and government dependence? We will get back to the issue of education in a moment, but first let's look at black Americans' generally negative perception of their role in U.S. society that took a dive under President Obama in Gallup tracking.
Since the Great Society, there has been a negative downward trend on the perception of race relations between white and black Americans. Under President Bill Clinton, those negative perceptions intensified, with a particularly large, disturbing dip occurring from 1995 to 1996, when the country was racially polarized by the affirmative action debate following the 1994 trial of O.J. Simpson. Then, something magical began to happen.
Under President George W. Bush, who won an extraordinarily high percentage of the black vote in battleground states for a Republican candidate in 2004, there was a significant reversal from a negative trend to a positive trend in race relations in America. Suddenly, the amount of black Americans who said the U.S. was a racially just society began to increase, fueled by a first-time majority of black men expressing satisfaction in the fairness of U.S. society toward black citizens.
Though black women, particularly older black women, lagged behind both younger and older black men, they slowly but surely followed the trend under the tenure of George W. Bush. As we can see from the chart above, the progress made in race relations was all but erased under President Obama, though levels are starting to recover. But according to Gallup, the increased positive view stems from a different, more sinister sentiment; a sentiment among blacks that those now in power are "their guys," and will implement policies of social retribution disguised and couched in the rhetoric of social justice.
Is that what progress looks like for the black community?
All of the economic and socioeconomic data strongly suggest the answer to all is no. But much to the fault of Republicans, black voters and citizens at large are unaware of the damage Democrat-controlled governance has had on their communities, though voters in such places as Detroit and New Orleans are showing a slight break with their Democratic traditions.
One of the first actions taken by President Obama was to use his "pen" to sign an executive order that took choice away from black parents, while empowering the teachers' unions who are trapping their children in failed school systems. Under the direction of the first black president, despite the literal cries from black parents, the first black attorney general Eric Holder sued the state of Louisiana over their scholarship school choice program.
The program is a successful program that works, and we know it works. Yet the all-power and all-knowing federal government under Democratic control cannot afford to lose union support or black voters who are trapped on the Democratic plantation, eager to vote for a party's candidates who promise them a meager existence.
While the accusations of racism hurled by liberals toward the Tea Party and other conservative groups are wildly inaccurate smokescreens, it is true that the Republican Party has been grossly negligent in reaching out to our black brothers and sisters in liberty.
We cannot and will not make false promises, such as taking care of citizens' everyday needs or ending all racism by establishing an impossible utopia, which is to be run by a bunch of politicians who pretend to care about their constituencies. But we can make some real promises, and we can keep them.
We can promise an education system that won't trap your children in failing schools, because we care more about financial contributions to campaign coffers from teachers who fail to prepare kids and give them the skills they need to succeed in American society.
We can promise that conservative, small government lawmakers are the only government officials with the appetite to reform mandatory sentences for non-violent crimes, which too often deny your families the ever-important male role models needed for your children to reach their full potential. The horrific truth about big government, is that the needs of the state are ever-changing, which prevents any loyalty to communities of any color.
We can promise that under "progressive" Democratic big government, those needs will change, and God help you when the time comes that those needs must be fulfilled at the expense to your community. We are already witnessing this terrible truth, with abortion clinics readily available in black communities despite their risks because, whether it is acceptable to say or not, it is cheaper to allow a single black (or white) mother to kill her baby than it is to pay for big government's promise to assume the cost associated with parenthood.
We can promise integrity that no one, no one will be able to take away from you. It is the kind of integrity Frederick Douglas yearned for, which only comes from delayed gratification, working and becoming a self-sufficient human being with a strong family.
We can promise you liberty of mind and body, so that you may be free to think and act as you please, so long as you harm no other citizen by your actions. We can promise liberty offers the opportunity to live more than the "meager existence" promised to black Americans in return for supporting the Democratic Party.
We can promise more than just surviving for as long as our weak economic and monetary system survives, but rather we promise a unified and strong community, which is the only environment conducive to harnessing the potential for material and spiritual prosperity.
These are the promises those whom we celebrate during Black History Month sought from our society for the black community, and conservatism offers the promise of opportunity to you now.
Richard D. Baris is the Creator of PeoplesPunditDaily.com and author of "Our Virtuous Republic: The Forgotten Clause in the American Social Contract"