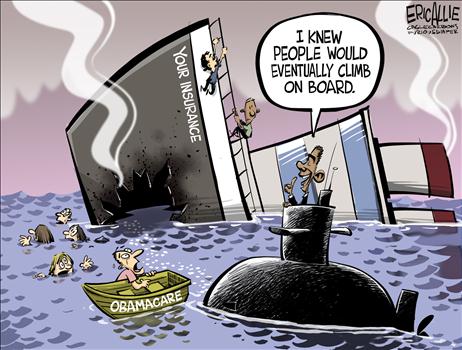 Our health insurance marketplace is being turned into a health insurance "system" with disastrous results. Government always does this in an effort to fix things. It turns things into "systems" instead of what they should be, which are marketplaces.
First of all, let's get something straight — health insurance is not a "system." It is a product by which you transfer the risk of financial loss to an insurance company for a fee. It is not health care; it is a device by which you protect yourself from financial loss. It does nothing to heal people, advance medical science or lower doctor's bills.
ObamaCare is a failure for many reasons, but this administration seems to think that if seven million people signed up for it, it must be good. I think just as many also signed up to send Justin Bieber back to Canada. What's oh-so-hilarious is that not more than a year ago, this administration referred to 14 million people losing their insurance as a "small sliver of the health care marketplace."
The vast majority of the 7 million ObamaCare enrollees (purportedly) are people that never paid for it. That's not a success in my book, particularly when so many got rate increases or were forced off existing policies.
It's classic liberal "common core" math. Ignore the 6-7 million that got forced off their existing policies, but loudly trumpet that 7 million signed up for ObamaCare.
Hey, we helped 7 million people!
Furthermore, percentages from a hush-hush RAND Corporation study suggest barely 858,000 previously uninsured Americans have enrolled and paid premiums, as reported by the Guardian and the LA Times. To benefit 7 million — EVEN IF THEY ALL PAID — at the detriment of 160 million policy holders (maybe more), is an insane entitlement and is a redistribution of wealth from the middle class to the hands of the very wealthy who stand to benefit the most from this law.
No one was ever turned away from serious medical conditions that required hospital care — by law. The poor already were protected by Medicaid and the disabled received Medicare, so the mantra we are protecting the sick and the old, is false.
The rich, who had medical conditions got insurance, however, they did so to protect their wealth from seizure or creditors, and they did so at taxpayer expense. What did the middle class get while the wealthy mined the treasury gold mine? The shaft.
The middle class got the higher premiums and larger deductibles with policy features they did not want nor need.
This entitlement will bankrupt us all in the end. Wait until our doctors' offices flood with people now forced onto Medicaid, who were irresponsible with their health care for years. Wait until our premiums soar from actuarial costs.
It must be repealed and ANYONE who stood to defend it in ANY way needs to be removed from office in the upcoming elections.
Yes, I am angry. And you should be, too.
Thomas Purcell is a nationally syndicated columnist,  host of the Liberty Never Sleeps podcast hour, and author of "Shotgun Republic."