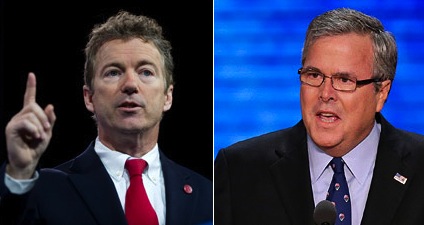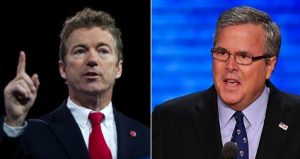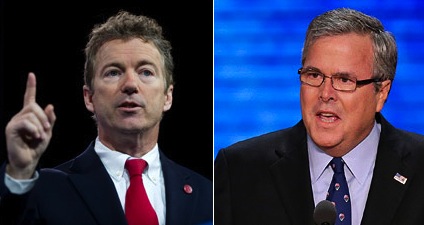 The Washington Establishment and various others in the elite political class are overtly pushing and covertly nudging Republicans toward nominating Jeb Bush in 2016. It is obvious that there is an unprecedented early effort to discourage the conservative, activist base of the party and create an "air of inevitability," or "electability" around Jeb Bush. In this article, I will address the claims made by the Establishment and destroy their arguments.
We recently reported that the GOP donor class was beginning a behind-the-scenes effort to "draft" the former Florida governor, which prompted Larry Sabato, whom I respect and was utterly shocked by, to rank Bush at the top of the Crystal Ball's GOP contender list late last month. Then, on April 2, the "mainstream" Republican publication, Cook Political Report, another election projection site, released an article by Amy Walter entitled, "Don't Call Rand Paul The Frontrunner."
Well, if we can't call Rand Paul the frontrunner, then we definitely cannot call Jeb Bush the frontrunner, either. It is important to note that–unlike other pundits–I feel it is important to disclose the fact that I am a conservative. Let's cut the garbage. Cook is an Establishment Republican pundit, while Larry Sabato is a Kennedy-Era Democrat. There is nothing wrong with any of this, but it is dishonest not to disclose this to readers. We all know Nate Silver is a liberal, but that doesn't mean we can't look at his model and recognize his efforts to be objective. Sometimes, however, I get a faint whiff of something else.
The prevailing argument for Jeb Bush is an utterly ridiculous, one-tracked argument that generally holds that Jeb Bush is backed by the Establishment's money, and presidential hopefuls need money. Admittedly, the data are pretty clear. History shows that those who receive the most Establishment endorsements have gone on to win the nomination, in both parties. Where these arguments have gone awry, however, is their assessment of how and when a candidate earns the support of the Establishment, as well as their lack of recognition that sometimes they are forced by the voters to get "comfortable" with a nominee they otherwise would not have wanted.
In 1980, by far, Ronald Reagan had the most Establishment endorsements, but that's only because they were forced to abandon George H.W. Bush and back the conservative insurgent-turned-Republican standard-bearer. In 2008, Hillary Clinton was the choice of the Democrat Establishment who had the loyalty of the vast majority of Super Delegates, yet she was overtaken by the radical leftist, insurgent wing of the Democratic Party backing Barack Obama. To a lesser extent, in the same year, a somewhat fractured Establishment believed Rudy Giuliani was the only viable choice to run against Hillary, but settled on John McCain because of early state dynamics and flawed campaign strategy.
In 2012, by the way, Romney was able to straddle the fence as the previous cycle's "conservative alternative" to John McCain, while at the same time remaining the Establishment. And even still, had Matt Strawn not flubbed the Election Day results showing Romney edging out the truly-victorious Rick Santorum, perhaps the former Pennsylvania senator would not have had to wait until Colorado to gain viability. The existence of Super PACs is not yet fully understood by respected pundits, but we know they have turned an unknown amount of past prevailing wisdom on its head.
Which brings me to my next point: Exactly, which early state does Jeb Bush think he will make his stand in, gaining that much-needed early momentum to sling-shot him through the nomination? Sure, it's true that early polling holds little predictive value in presidential nominations, but actual dynamics and fundamentals are against him. Not one time has Jeb Bush led on the PPD average of 2016 Republican presidential nomination polls, nor is he a favorite in either New Hampshire or Iowa.
The very same positions Rand Paul holds on the NSA, drones and greater foreign policy have helped and will help him in the early state of New Hampshire, though I think concern over his positions are overblown. His foreign policy positions, which he has explained several times, resemble more Ronald Reagan than George H.W. Bush. "The Gipper was no neocon," as Pat Buchanan recently pointed out. Paul has consistently led in New Hampshire surveys, while  former Arkansas governor turned-Fox New host, Mike Huckabee, is still holding on to a slight lead in Iowa, where Paul is nipping at his heels. Outreach to nontraditional GOP primary voters in Iowa may just pay off, as I have personally spoken with several Hispanic and black Protestant church leaders who say they will back Paul in 2016 if he decides to run.
The Washington Establishment, to include the Republican Establishment, media pundits and power-brokers, all are petrified over this next presidential election cycle. It is only natural, considering Rand Paul — or another actual conservative — would do their best to neuter them and return power to We the People if elected. But they have yet to come to understand a simple sentiment in the party, as well as America in general.
People, not just activist conservatives, don't want Jeb Bush or any other Bush for that matter. A recent Washington Post-ABC News poll found that almost half of all Americans say they "definitely would not" vote for Jeb Bush in the 2016 presidential election. Another even more recent survey by Rasmussen Reports found 50 percent of likely voters "definitely would not" vote for another Bush. This is a sentiment that transcends party or the conventional rule that early polling lacks predictive power.
It is far more likely that a Scott Walker or John Kasich will be the benefactor of the Establishment's inevitable abandonment of Jeb Bush, than it is Jeb Bush will be the Republican nominee. We cannot know this for certain at this point, but we can know that Jeb Bush is not the frontrunner, as the Establishment and pundits contend.
But, I suppose, if I were them, then I would be worried, too. Though I am just not sure that I would allow that to influence my election predictions. Call me cynically conservative, but I smell a little bit of that good ole' fashion desire for self-preservation in the air at "Grand Ole' Party" headquarters. And it smells a lot different from "inevitability" or "electability."