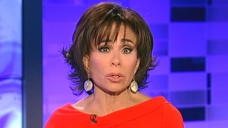 On "Justice" Saturday night, Judge Jeanine Pirro tears in to President Obama for what she called a "relentless affront to the core values of this republic," truth and justice. The entire administration laughs at the American people and the idea they could be held accountable for their numerous lies over Benghazi or the IRS scandal, Pirro says.
Judge Jeanine rips CIA Deputy Director Mike Morell for lying to Congress about changing the Benghazi talking points. New revelations and documents show Morell knew he wasn't telling a congressional committee the truth when he gave the fabricated video story as a reason for altering the talking points. The deputy director claimed that removing all mention of radical Islamic terrorist was a deliberate attempt not to stoke the fires in the Islamic world, which had already been engaged in "numerous protests and demonstrations because of the video."
But none of that was ever true, and Deputy Director Morell knew that. "What are you stupid too?" Pirro says, suggesting that Morell was not only a liar and a political hack, but also naive for thinking the removal of a few words like Islamic terrorists will suddenly result in radical Islamic terrorosts warming up to America.