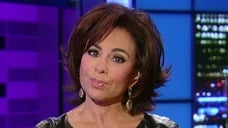 Judge Jeanine Pirro, host of "Justice," laid out the case Saturday for why she thinks Democrats must be afraid of something big being discovered by the select committee on Benghazi. For Democrats to oppose the idea of talking about something other than the ObamaCare debacle, "something that affects the health and pocketbook of literally millions of Americans today, tells me that the Democrats have something to hide."
Pirro argued that the left could do real political damage to the Republican Party if the hearings turned up nothing new on the Benghazi scandal, that is, if there was indeed no scandal. Further, attention would be diverted away from what is likely to cost the party control of the Senate in November. "Hearings would obscure the Democrats' biggest vulnerability in 2013, ObamaCare," she added.
"Why would they object? What do they have to lose? Considering that the president's health care law cost him his favorability ratings and his approval ratings, something Democrats know is a liability in the upcoming midterm elections, her skepticism is expected. In fact, for Pirro, it's common sense.
"It's a win-win for them."
She went on to rip Nancy Pelosi, Hillary Clinton and White House Press Secretary Jay Carney, who she says should be "indicted for just showing up, because you knows he has every intention to lie."
Friday the House voted to establish a select committee to investigate the attack on Benghazi, Libya, on Sept. 11, 2012. Newly released emails show White House advisor Ben Rhodes played a pivotal role in the prepping former UN Ambassador Susan Rice for the Sunday talk shows. Rice went on to spout what we now know to have been fictitious talking points designed to make President Obama look good during the 2012 presidential campaign.
Four Americans died in the Benghazi attack, the family members of which were lied to by President Obama, then-Sec. of State Hillary Clinton and various other members of the Obama administration.