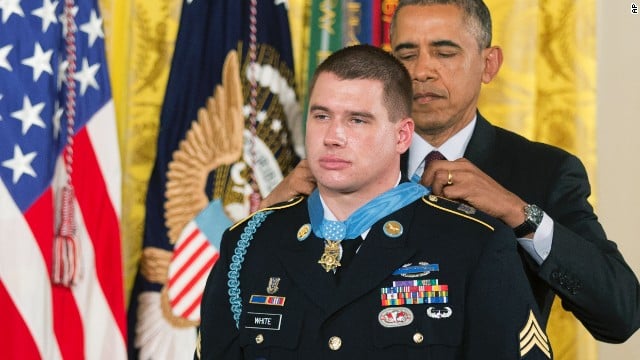 What if there were no heroes anymore?
Yesterday we watched former Army sergeant, Kyle White, who withstood Afghan insurgent fire to save his fellow warriors' lives, receive the Medal of Honor. During his acceptance speech, he talked about his fellow soldiers that had been killed, but he also mentions that his award was actually a medal for his team.
"Without the team," he said, "there could be no Medal of Honor. That is why I wear this medal for my team."
Unfortunately, the American fighting man is being slowly phased out. From the use of drones, to automated planes and robots, the very idea of heroism is under attack.
Now, I know what you saying — anything to save our boys from death and worse. In principle, I agree with that sentiment. No sense getting our sons and daughters killed when a well-placed missile can do the trick.
The problem with push button warfare though, is the death of heroism.
Heroism is important to a society. It gives people a symbol to look up to and people need symbols to understand what we are fighting about. Sports stars and astronauts are all well and good, but true heroism is often marred by sacrifice. Sacrifice of the mind, body and spirit are almost a perquisite for the advent of heroism. In this respect, a sports star cannot compete with the everyday fighting man in the field.
In order for a nation to understand the meaning of valor and to understand why a nation goes to war, it needs heroes. There is nothing heroic or anything to be admired about push button warfare, it is simply killing. War is much more than that — it is a contest of ideologies, backed up by the heroism of a nation's people. Without heroism, warfare becomes little more than organized mass murder.
This was the criticism of wars like Vietnam, Iraq and Afghanistan. We did not go there to win; we went there to kill our enemies, which is an entirely different endeavor than war. As such, the American people did not understand the reasons for being there, and did not support our efforts there. Morale about those actions and support for our government evaporated. Our enemies (and some allies) perceived us as cowards.
What else could they take us for?
A nation that refuses to back up its ideology in blood and refuses to die for what it believes in does not last long. The horror of war is also removed with a push button ideology — it becomes easier to kill. It also places the awesome power of a superpower in too few hands. There can be no surrender and there can be no quarter when a nation can go to war with a few hundred people and kill thousands.
Even the military recognizes this; they have begun the process of awarding medals to drone pilots. They know full well the power of heroism and the spirit de corps.
A nation without heroes? No gallantry? No chivalry? Murdering our foes with a push of a button has been made practical and cost effective with the advent of the drone.
There are some things that are WORTH dying for. I would have thought the American people would have recognized this.
There are far worse things than death.