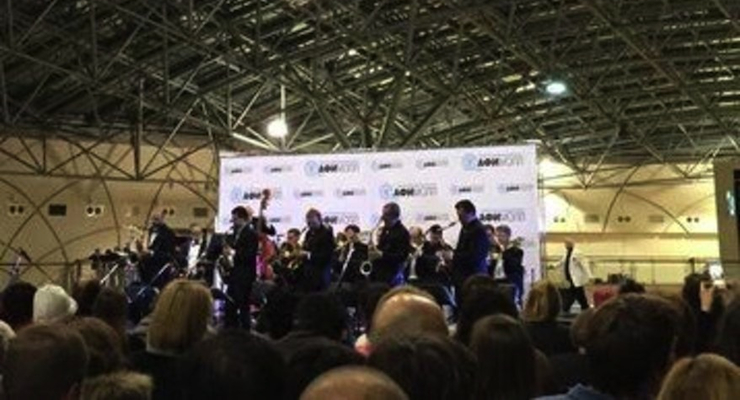 Socialism is a philosophy of failure, the creed of ignorance, and the gospel of envy, its inherent virtue is the equal sharing of misery. — Winston Churchill
While conducting some reporting on the former Soviet Union, I recently had the distinct pleasure of being invited to a free jazz, big band concert in Moscow, held during one of many music festivals. (I have to say, these people know how to have fun.)
The 20-plus Russian musicians, dressed in tuxedos, treated the audience to two hours of the greats of the jazz and big band era—Louis Armstrong, Benny Goodman, Erroll Garner, Glenn Miller, Cole Porter, Count Basie, Duke Ellington, Tommy Dorsey—and the list went on and on. The audience stood and cheered as one line of horns after another would stand up in unison and delight the listeners with distinctly American times gone bye.
The devushkas to the babushkas couldn't sit still in their seats as legs were pumping, hands were in the air, and hoots and hollers of uncontrolled joy sprang naturally from their breasts.
Then it hit me.
This was the greatness of America.
I thought, how strange to experience this sensation here, so far away from home in a place not known for its freedom. The greatness of America was its natural optimism, the thought that if you worked hard you could fulfill you dreams. The joy of being free. It was the thought that a type of music born from the descendants of slaves could be honed and perfected to such level that the whole world could enjoy. It was the thought of racism being slowly destroyed in America. Yes, this was the greatness of America that even these former Soviet citizens and young Russians are acknowledging, whether they know it or not, as they tap their feet to the joy of this music. And then I thought: Why haven't I felt this for such a long time? How sad.
Do you remember?
Do you remember the pride of being an American? Do you remember sitting in school as a child, learning about our Founding Fathers, civics class, our Constitution, our success in World War II, freeing the world from tyranny? Do you remember the pride of seeing the American flag because you knew, deep in your heart, that despite all of America's flaws, it was a good country, it stood for freedom? Do you remember the shining city on the hill, the triumph of good over evil?
Do you remember when you trusted, for the most part, our federal government? Do you remember when the IRS was a pain in your you-know-what, but you weren't scared it was corrupt, that it would come after you if you made a contribution to the wrong political candidate? When the Secret Service was a group of heroes, sent down from heaven, professionals who would give their life for our elected leader, who could be trusted not to use their vast resources for political gain? When federal agencies were, for the most part, good people, who were not buying vast amounts of military weapons to one day overcome any domestic resistance? When the Veterans Administration took care of our veterans and didn't let them die in the waiting room as bureaucrats padded their pensions?
Do you remember when there was less racial tension, when there was hope of a united America? Do you remember when you didn't fear a race war? Do you remember when immigrants, for the most part, were assimilated into the United States and the American dream?
Do you remember when you were optimistic about the future, when you were sure that your children would have a better, more successful, more secure life than you?
Do you remember when the rule of law was paramount? It didn't matter what party you were affiliated with, if you broke the law, then you would pay the consequences, like when Richard Nixon resigned the presidency?
Do you remember when you could trust our teachers, when you could send you child to public school and not worry about their impressionable minds being filled with communist mush? Do you remember when our universities were halls of higher learning and not socialist re-education camps, when young people would graduate with the skills to confront the world, rather than sit in their parents basements, tending bar at night, and girls wouldn't worry about how much of a victim they were when a guy held the door open for them?
Do you remember when our president didn't actively pit one part of society against another for political gain or for some ancient grudge deviously planted in his genes? Do you remember when our president led the Free World? Do you remember when our president could be trusted, when what he said was what he would do? When he stood up for all races and religions? When your president wouldn't dare be seen in a church service that preached, "God Damn America?"
Do you remember when Americans voiced optimism, instead of searching for the nirvana of victimhood? When they were self-reliant and not dependent on government? When 46 million people were not on food stamps? When almost 100 million people had not given up on looking for a job?
Do you remember when the Democratic Party, for the most part, stood for the old American values as well? When Democrats didn't just want power at any cost? When they didn't want to let American power atrophy? When they said, "Ask not what your country can do for you," but what you can do for your country? That Democratic Party is no more, gone, kaput. Now the party's creed is, get as much as you can before the lights go out!
We need a new leader to tell the story of America to the world. Heck, we need a leader to tell the story of America to our own children. The political system our Founding Fathers set up is the most successful political system in history. It provides the best hope for people to be free and successful and self-reliant. We weren't born to be living under a king. We were born to be living under an oligarchy of socialist elites. We were born to be free.
This freedom is slipping away. The skies are darkening. The world is a much more dangerous place since America is no longer leading and standing up for freedom. The forces of evil are gathering, getting stronger, plotting, planning a less free world. The worst part is this loss of freedom is self-inflicted. It is coming from within.
We desperately need not a new vision, but the American vision of the past.
When I went through Survival, Evasion, Resistance, and Escape training prior to becoming an Air Force pilot, we were put in mock POW camp for days and mistreated in order to understand what it is like to lose your freedom, to learn techniques to resist the enemy, to survive and ultimately be free once again.
During the end of the training, (although we didn't know it yet) the mock POW camp commander put us at attention on the parade field and preached to us how we weren't Americans like he used to know. He told us stories of American heroes of wars gone by. He told us of suffering, hardship and torture that these men and women went through to make sure America stayed free.
And then, he said, you are now my prisoners, you have to salute my flag, you have to pay respect to my country. Now turn around and salute my flag! We did so, and there, waving freely in the wind, was Old Glory, flying proudly, free. That is when I truly understood what it meant to be an American.
I want that feeling back.