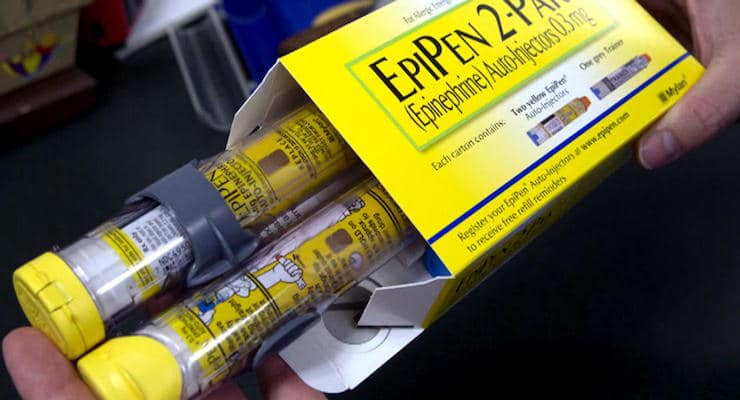 So the seller of the EpiPen is now going to offer a generic alternative costing 50 percent less. The Mylan drug company has been drowning in public outrage for jacking up the list price of an EpiPen two-pack from about $100 to as high as $600 over nine years. The EpiPen is a lifesaving injection device for people suffering a severe allergy.
Story not over, as much as Mylan would like it to be. Story not over by a long shot.
Why did the Mylan execs raise the price of an old treatment sixfold? Because they could get away with it.
Why could they get away with it? Because the United States Congress let them. The U.S. is the only advanced country that doesn't routinely negotiate drug prices with the makers. (The Department of Veterans Affairs and Medicaid are exceptions.)
Mylan surely didn't want this scandal leading to serious efforts in Washington to start regulating what drug companies may charge the American people. Better to stage this semi-retreat and change the subject.
Note that this is not an ordinary take-it-or-leave-it consumer product. For people severely allergic to spider bites, bee stings, nuts, eggs or shellfish, it's take it or possibly die.
Our elected representatives have tied the American consumer down, belly up, to accept corporate abuse that other countries would not tolerate. Mylan showed its "thanks" by incorporating in the Netherlands to avoid U.S. taxes.
When the EpiPen price backlash hit full force in the U.S., the Canadian government simply reassured its citizens: Don't worry. An EpiPen still costs only about $100 in Canada.
Mylan's initial response to public anger was a program offering to help some patients with out-of-pocket costs. These patient-assistance deals are basically PR stunts, charitable gestures for which Americans are supposed to feel grateful.
Mylan CEO Heather Bresch tried to distinguish herself from the soulless drug industry vampires who infamously bled desperate patients, taxpayers and buyers of insurance. That would be Martin Shkreli, who hiked the price of a 62-year-old HIV drug by 5,455 percent, and J. Michael Pearson, whose Valeant Pharmaceuticals raised the price of a lifesaving heart drug 525 percent in one day. Bresch is not different, only smoother.
In an interview on CNBC about the EpiPen price hike, Bresch said, "Look, no one's more frustrated than me."
"But you're the one raising the price," the interviewer gasped. Perhaps she isn't smoother.
Defenders of the status quo argue that competition is the ticket to lower drug prices, not a more assertive government. They blame the federal Food and Drug Administration bureaucracy for hindering would-be rivals. Some criticize the excessive monopoly rights the U.S. government grants drug companies.
They are not entirely wrong. More competition would help. But the fact remains that an EpiPen two-pack costs only about $85 in France, a fraction of the new $300 wholesale list price "deal" Mylan is now offering Americans — and it's not because drugmakers are tripping over one another to offer competing products.
The real villain of the piece is a Congress that lets these companies prey on Americans. Congress actually forbade the government to negotiate drug prices on behalf of Medicare patients. (For the record, Bresch is the daughter of Sen. Joe Manchin.)
The injuries to American drug consumers continue piling up. Over the past 15 years, the average price of new cancer drugs in the United States has risen five- to tenfold. Cancer drugs now cost about twice as much in this country as they do in Canada.
Americans should be asking candidates for Congress whether they support government intervention against obscene drug prices. Until that happens, this disgraceful story will not be over.