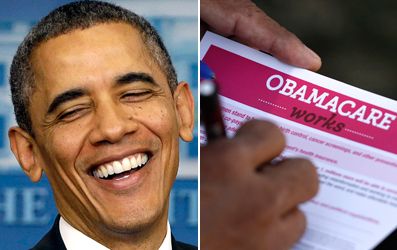 The administration said about 943,000 people signed up for private insurance in federal and state exchanges in February, bringing the total to 4.2 million.
With the deadline fast approaching, the new ObamaCare numbers for the first 5 months are barely at 75 percent of the administration's goal for the 5-month period.
A of the month of January, the percent of young adults who selected a Marketplace plan was 3 points higher than it was from October through December, 27 percent up from 24 percent. But cumulatively, just 25 percent are between the ages of 18 and 34, far below the needed floor of at least 40 percent for that bloc.
The administration has foolishly staked the viability of the entire program on enrollment patterns in other health care programs. Now, they no longer have the luxury to simply expect, but need more people to sign up before the fast-approaching March 31 deadline. No expert, on either side of the aisle, will go on the record to predict they will meet that unrealistic goal.
"Over 4.2 million Americans have signed up for affordable plans through the Marketplace," said Health and Human Services Secretary Kathleen Sebelius. "Now, during this final month of open enrollment our message to the American people is this: you still have time to get covered, but you'll want to sign up today – the deadline is March 31."
However, only 1 in 10 uninsured Americans who qualify for private plans through the new health insurance marketplaces actually enrolled as of last month, according to a survey by the consulting firm McKinsey & Co., which was previously reported by PeoplesPunditDaily.com.
Although the administration views the lack of enrollment as an outreach problem, the survey cited cost as the number one reason for the lack of registration. Further, health insurers "participating in ObamaCare are a very worried group right now," according to health insurance industry consultant Robert Laszewski.
The 4.2 million includes those who have and have not yet paid for their premiums, and according to insurers, roughly 20 percent have never paid the first month's premiums, and an additional 2 to 5 percent haven't paid the second month's premium, Laszewski wrote, citing insurers.
President Obama, attempting to boost ObamaCare enrollment numbers, appeared on Funny Or Die's "Between Two Ferns" to promote the health care law. While the president's team defended the move, many critics say it is a display of desperation, unworthy and beneath the Office of the President.
Either way, the new ObamaCare numbers spell a taxpayer bailout in the making, which is actually demanded by the law, but at least Obama can still set aside time from his busy schedule to joke.