The Congressional Budget Office released two startling new reports showing crippling levels of national debt under the status quo and President Obama's budget. The CBO projected total federal debt held by the public will hit 78 percent of GDP by 2024, which is up from 72 percent at the end of 2013 and roughly double historical levels.
Total federal debt has averaged 39 percent in the past four decades, and as recently as the end of 2007, the national debt equaled just 35 percent of total GDP. Yet, even under President Obama's new proposed budget, the levels of spending are just not sustainable.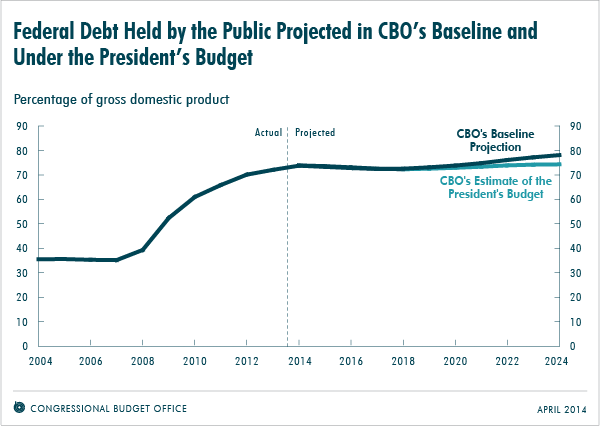 According to the CBO, deficits would total $6.6 trillion between 2015 and 2024 under President Obama's budget, just $1.0 trillion less than the cumulative deficit in CBO's baseline. The projected national debt would equal 74 percent of total U.S. GDP, or gross domestic product, meaning U.S. debt would be 74 percent of the entire American economy.
"Such high and rising debt would have serious negative consequences," the CBO said. "Federal spending on interest payments would increase considerably when interest rates rose to more typical levels. Moreover, because federal borrowing would eventually raise the cost of investment by businesses and other entities, the capital stock would be smaller, and productivity and wages lower, than if federal borrowing was more limited."
In other words, the U.S. economy will collapse and the social safety nets that Democrats consistently attack Republicans over, will become too expensive to fund. The only appropriations funded by an ever-shrinking stream of taxpayer revenue will need to be made to fund current debt obligations. The cost of doing business in the U.S. will be too high, causing even U.S.-based corporations to seek better-suited investment environments, i.e. other countries.
"In addition, high debt means that lawmakers would have less flexibility than they otherwise would to use tax and spending policies to respond to unexpected challenges," the CB O added. "Finally, high debt increases the risk of a fiscal crisis in which investors would lose so much confidence in the government's ability to manage its budget that the government would be unable to borrow at affordable rates."
Because they refuse to deal with the spending problem in Washington now, rather than later, politicians will not have the time nor political will and capability to reverse the inevitable crisis. Future generations will be crippled economically and the very low-income citizens Democrats claim to be protecting will be hurt disproportionately, or the worst.
The Congressional Budget Office report relies upon conservative estimates, and admittedly cannot account for unpredictable costs associated with ObamaCare. As previously reported by PeoplesPunditDaily.com, total health care expenses are projected to hit $5.5 trillion by the year 2022, which were calculated by the Center for Medicare and Medicaid services. However, neither institution factored in likely bailouts mandated by the Affordable Care Act.