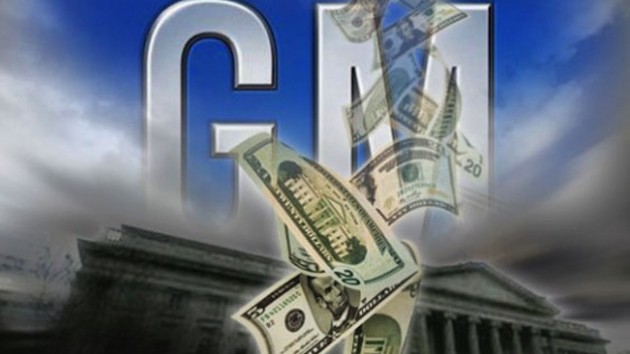 The U.S. government, which really means we the taxpayers, lost more on the GM bailout than the Treasury Department initially claimed we would. According to a new government report released on Wednesday, US taxpayers lost $11.2 billion on the bailout for General Motors Co., which is obviously more than the $10.3 billion the government estimated when it sold its remaining GM shares on December 9, 2013.
The $11.2 billion loss even includes a write-off back in March pertaining to the government's remaining $826 million share investment in "old" GM, says the quarterly report from the Treasury watchdog.
The U.S. government spent about $50 billion to bail out GM, which went through a 2009 bankruptcy. The government's investment was then converted to a 61 percent equity share stake in the Detroit-based automaker, on top of preferred shares and a structured loan.
Treasury whittled down its GM stake through a series of stock sales starting in November 2010, but could not dump the amount of shares to keep from realizing a loss in an adequate time because the shares would have collapsed.
When Treasury sold its final share, they estimated a total loss of $10.3 billion, but did say we shouldn't expect any proceeds from its remaining $826 million investment in "old" GM, the report by the Office of the Special Inspector General for the Troubled Asset Relief Program said.
The U.S. bailout of GM and Chrysler, which received about $12.5 billion, supposedly saved 1.5 million jobs following the financial crisis, when the union-heavy companies found themselves over-extended by unrealistic benefit payments to the United Auto Workers Union. But the widely cited numbers are from the Center for Automotive Research, and are not universally accepted among economists.
Nevertheless, even though a small plurality of Americans view the auto bailouts as a necessary evil, they have a less-than favorable opinion of the companies who took them. Meanwhile, Ford Motor Co., the one and only of the Big Three automaker who didn't take a taxpayer bailout, is still better liked than General Motors and Chrysler, and a sizable number of Americans even continue to say they buy based upon those bailouts.
While GM sits in the dumps, 68 percent of American adults say they have at least a somewhat favorable opinion of Ford, according to a recent Rasmussen Reports poll. Only 23 percent have an unfavorable opinion of Ford, including 25 percent with a "very favorable" opinion of the company, and just 6 percent with a "very unfavorable" one.
Last week, GM posted its 17th consecutive quarter of realized profits, but earnings were hurt by a $1.3 billion charge for the costs associated with various recalls, including one for faulty ignition switches on a whopping 2.6 million cars.
Currently, after all of that money, GM is under investigation by the Justice Department, U.S. auto safety regulators and Congress for its failure to detect the faulty ignition switch for over a decade. The U.S. Securities and Exchange Commission is also investigating GM, and the various recalls have resulted in an untold number of deaths, as estimates continue to rise.