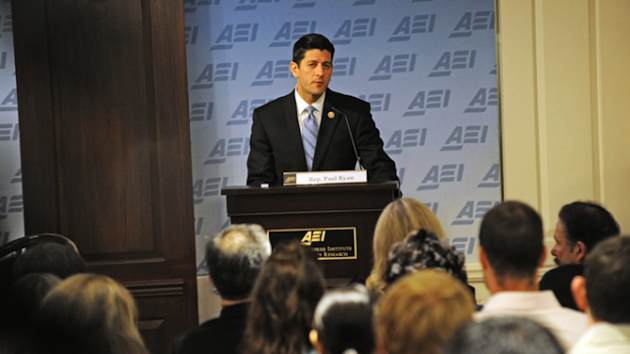 Rep. Paul Ryan (R-WI), the 2012 vice presidential nominee and Chairman of the House Budget Committee, has been an anti-poverty advocate his entire career. This week he delivered a speech at the American Enterprise Institute, a D.C.-based policy think-tank, outlining his plans for "expanding opportunity in America."
"Too many families are working harder and harder to get ahead, and yet they're falling further and further behind," Ryan said. "The costs of food, housing, and gas keep going up, but paychecks haven't budged. So whether you're a Republican or a Democrat, I think we can all agree: America deserves better."
Paul argued that now is the time to reform the nation's entitlements programs, social safety nets and rebuild a "healthy economy." Without a strong economy there is no social safety net. That's true for "both for those who can't help themselves and for those who just need a helping hand," he said.
However, despite the U.S. spending nearly $800 billion annually to fund 92 federal programs supposedly aimed at fighting poverty, the poverty rate is the highest in a generation. "Deep poverty is near record highs," he noted.
"When you take a step back and look at all this, you just have to think, 'We can do better,' Ryan declared.
Congressman Ryan gave one rhetorical after another highlighting the various challenges — both societal and economical — average Americans face in today's faltering economy. But current government policy largely ignores the cultural challenges America faces.
"Maybe you're struggling with an addiction, and you need counseling. Maybe you come from a broken family, and you need a network of support. The point is, you would work together to get you from where you are to where you want to go," Rep. Ryan said.
Paul Ryan was attacked back in March after he appeared on Bill Bennett's Morning in American radio show. In response to Bennett saying that the "fatherless problem is a big one," Ryan went on to discuss the culture of fatherless homes in inner cities across America, a problem everyone knows has become an economic crisis. Yet, despite the data showing fatherless homes is the single-biggest driver of child poverty, race-mongers jumped on him immediately after his comments.
But that hasn't deterred Ryan, who said "we're reconceiving the federal government's role." Over 50 years and trillions of dollars since President Lyndon B. Johnson declared a "war on poverty," and the federal agenda has been a failure by every measure.
"No longer will it try to supplant our communities but to support them. In my view, the federal government is the rearguard—it protects the supply lines. But the people on the ground—they're the vanguard. They fight poverty on the front lines. They have to lead this effort, and Washington should follow their lead."
Unlike traditional government-led discussions on poverty, the debate on Ryan's plan is an open forum. While he believes his proposal are good ideas, "they're just a start."
As of today, the congressman says it will be referred to as a "discussion draft," because it's meant to start a discussion. "So if you have an idea to expand opportunity, we want to hear from you," he said.
Send your idea to [email protected].