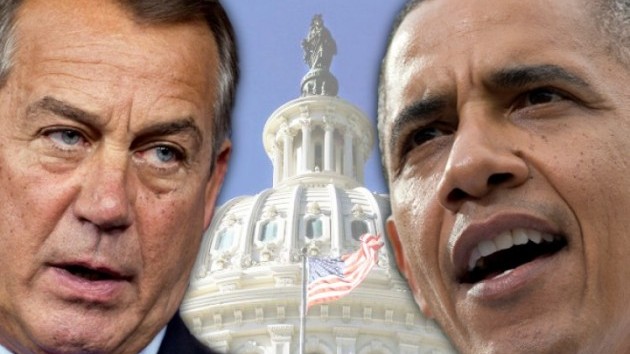 I feel a bit schizophrenic when people ask me my opinion of Republicans on Capitol Hill.
When I'm in a good mood (or being naively optimistic, some might argue), I applaud them for blocking Obama's spending agenda. The fights over sequestration, debt limits, and government shutdowns have made a real difference. The burden of government spending has dropped significantly since 2009.
But when I'm in a bad mood (or being too demanding, some might say), I get very agitated that Republicans seem unable to achieve easy victories, such as doing nothing and letting the corrupt Export-Import Bank disappear. And it makes me think they're a bunch of big-government hacks.
The bottom line is that GOPers are both good and bad. Here's what I wrote back in 2011 and it still applies today.
It's almost like they have an angel on one shoulder and a devil on the other. They usually have some underlying principles, and they would like to do the right thing and make America a better place. Yet they also want to get reelected and accumulate power, and this lures them into casting votes that they know are bad for the country. Sometimes the devil has the most influence. During the Bush years, for instance, most Republicans on Capitol Hill went along with Bush's bad proposals… Yet every so often the angel gets control. All Republicans, including the ones who were in office and doing the wrong thing during the Bush years, …vote for…budget[s]…which would limit the growth of federal spending and fundamentally reform Medicare and Medicaid.
So are the angels or devils winning?
That's a judgement call, but here's a slide I've shared in some of my speeches. It shows three issues that will get decided in 2015 and asks whether Congress will make the right choices.
The jury is still out on all three of these tests, but there are many reasons to worry.
I've already written about GOP flirtation with the gas tax, which is very disturbing since a decision not to raise the tax automatically reduces federal transportation spending, so it should be a win-win situation (assuming, of course, that Republicans believe in federalism and a smaller central government).
Now let's look at the other two items on my list.
Republicans achieved a big victory with the sequester in 2013, but then gave Obama a big win by cancelling the sequester for 2014 and 2015.
Well, now they have to decide what to do for the 2016 fiscal year, which starts October 1. And there's already pressure from the White House, as you can see from this news report, to replace real spending restraint with gimmicks and back-door tax hikes.
White House Budget Director Shaun Donovan said Thursday he sees a "hopeful possibility" that Congress and the White House will agree later this year to update the Ryan-Murray budget agreement of 2013 which increased the discretionary spending ceilings set in the Budget Control Act. …Donovan declined to say if any preliminary talks have begun to renew Ryan-Murray, but declared that President Barack Obama will insist the sequestration process be "reversed." "We will not accept a budget that locks in sequestration," Donovan said. …The White House budget calls for FY 2016 discretionary spending that is about $75 billion above the spending ceiling set by the 2011 law after the sequester was triggered.
You may be asking yourself why Republicans would consider – even for a nanosecond – giving Obama all that new spending?
Well, the problem is that some GOPers are big defense hawks and they complain, accurately, that Defense is less than one-fourth of the budget yet is has to absorb one-half of the sequester.
But considering that the United States and its allies still account for theoverwhelming share of global defense outlays, I nonetheless think sequestration is a far better outcome than giving Obama carte blanche to squander and extra $75 billion.
But it remains to be seen what will happen.
Now let's contemplate the third test for the GOP.
Will the Senate commit to entitlement reform? The answer is…not really, but maybe.
Here's what The Hill has reported.
Senate Republicans will not include detailed plans to overhaul entitlement programs when they unveil their first budget in nearly a decade this week, according to GOP sources. The decision would break from Rep. Paul Ryan's (R-Wis.) House budgets from recent years, which Democrats used to pound Republican candidates in the 2012 and 2014 elections. …The GOP budget would balance in 10 years, according to GOP lawmakers familiar with the document, but it will only propose savings to be achieved in Medicare and Medicaid, without spelling out specific reforms as Ryan and House Republicans did in recent budgets.
In other words, the bad news is that Senate GOPers are not going to embrace the specific Medicare and Medicaid reforms that have been included in House-passed Republican budgets.
But the good (or hopeful, to be more accurate) news is that the Senate budget will call for a somewhat similar level of spending restraint. So that means the possibility of good entitlement reform will still exist.
By the way, the reason this is so important is that we may have a once-in-a-lifetime opportunity to actually enact desperately needed fiscal reforms in 2017. This is why it's so critical that GOPers not get wobbly and regress into being Bush-type big-government conservatives.
I explain further in this interview I had with the Institute of Economic Affairs on my most recent trip to London.
Incidentally, I'm not exaggerating in the interview when I warn that the United States may turn into Greece if we don't seize the opportunity to make reforms and slow the growth of government. If you don't believe me, check out these sobering estimates of long-run fiscal chaos from  the IMF, BIS, and OECD.
P.S. I'm sometimes asked whether the GOP leadership is part of the problem or part of the solution. That's not my area of expertise, but I will say that Boehner and McConnell basically represent the consensus of their respective members, so it's unrealistic to expect them to vote or behave like Justin Amash and Rand Paul. Sure, I wish they would be more aggressive on certain issues, such askilling the Export-Import Bank orending subsidized terrorism insurance.
And I wish they weren't so timid about confrontations with Obama since there's a strong argument to be made that they wound up as winners from the 2013 shutdown battle. That being said, what really matters if what they would do in 2017 if there was a President who wanted real reform. And on that score, I have confidence that Boehner and McConnell would do the right thing, twisting arms and knocking heads if necessary to get their colleagues to save America from becoming Greece.
[mybooktable book="global-tax-revolution-the-rise-of-tax-competition-and-the-battle-to-defend-it" display="summary"]