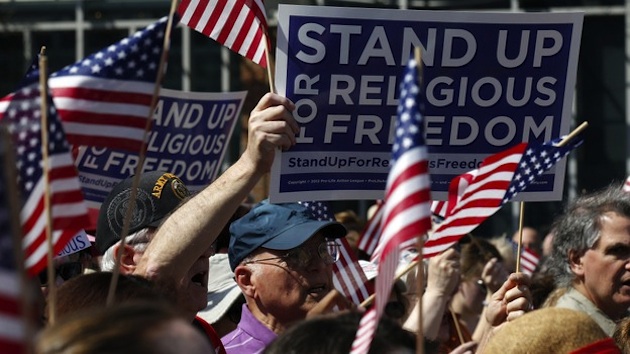 When describing their view of government and public policy, libertarians and constitutional conservatives sometimes use a variation of this phrase: "Not everything that's illegal is immoral, and not everything that's immoral should be illegal."
To put this in tangible terms, consider the fact that the EPA has penalized people who build ponds on their own property. Yet the property owners obviously haven't engaged in any behavior that's wrong. Indeed, it would be far more accurate to accuse the bureaucrats of behaving immorally. And Walter Williams, among others, has argued that "decent people should not obey immoral laws."
By contrast, there are many things that we should consider immoral, such as cheating on a significant other by patronizing a prostitute, but we would argue that it's not a proper role for government to criminalize caddish actions or victimless behavior.
This distinction between immoral and illegal is appropriate as we consider the nationwide controversy about what's happened in Indiana.
Joining the federal government and many other states, politicians in Indiana recently passed a "Religious Freedom Restoration Act" that's based on the notion that there should be some limits to government actions that hinder the free exercise of religion.
But "some limits" is not the same as "no limits." These laws all allow government to interfere if there is a "compelling state interest." To cite an obvious example, a crazy environmentalist couple couldn't sacrifice their child to appease Gaia.
Since all this sounds very reasonable, why has the adoption of the Indiana law turned into a huge kerfuffle?
The answer is simple. The Hoosier statute has become a proxy for the fight over freedom of association, which also implies a right to engage in private discrimination.
Here's some of what my colleague Roger Pilon wrote on the topic.
We find those principles in the nation's founding document, the Declaration of Independence…: freedom and equality. Rightly understood, they hold that we're all born free, with equal rights to remain free. That means—to cut to the chase—that we may associate with anyone who wishes to associate with us; but we are equally free to decline to associate with others, for any reason, good or bad, or no reason at all. That right to discriminate is the very essence of freedom.

He then points out that the CEO of Apple, Tim Cook, errs in a Washington Post column by seeking to use coercion to criminalize private immorality.
Cook turns those principles on their head. He says religious freedom bills "rationalize injustice" by, for example, allowing a baker to decline to bake a cake for a same-sex wedding. He would compel the baker to accept that request, by force of law. That's the very opposite of the freedom of association—the right to be left alone—that the nation was founded on. …I'm as offended as Cook is by that kind of discrimination. But I'm even more offended by the belief that we can force people to conform to our values when they're asking simply to be left alone to enjoy their right to pursue their values. And precisely there is the source of Cook's confusion, his conflation of rights and values, two very different moral notions.

Roger's key point is that some types of discrimination are wrong, in some cases grossly immoral, but that doesn't justify intervention by the state.
Which means a baker or florist who doesn't want to cater a gay wedding should have the freedom to reject that business. That business owner may be doing something immoral and intolerant, just as a bigot who doesn't want to do business with minorities is behaving reprehensibly, but people making their own decision with their own property shouldn't be forced to adhere to other people's values.
Writing for National Review, Deroy Murdock asks whether there are any limits to government coercion of private behavior.
The only identifiable victim of Indiana's new Religious Freedom Restoration Act is the First Amendment's Freedom of Association clause. Like Joan of Arc, it has been burned at the stake. …What if you are an atheist who really objects to gay marriage? Must you still bake cakes for gay weddings, or will pro-shariah Muslim bakers be the only ones who can walk into court and ask to be excused from doing so? …Do we respect the Junior League's right to choose to remain a female-only group, as it has been since 1901, or must they now accept male members? … Do we respect a gay baker's right to choose not to bake a cake for the Westboro Baptist Church with icing that reads God Hates Fags? …Do we respect a black jazz band's choice not to perform at a Ku Klux Klan chapter's "Negro Minstrel Show"?
Deroy poses these questions, because there are big implications depending on how people answer.
…it is crucial to remember that behind each of these scenarios lies something deadly serious: a gun. Government equals force. Its ultimate authority stems from its ability to use coercion or blunt force to deprive lawbreakers of their freedom. …So, the real question in each of these cases is: Do you support the government's use of coercive police power — up to and including fines, arrest by armed police officers, and imprisonment — because you reject a woman's right to choose not to bake a cake for a gay couple?
Here's his bottom line.
In the public sector, the government must administer equal justice under the law and treat all Americans equally. …The private sector, such as it is, is something different. Private individuals on private property should be free to associate with whom and without whom they wish. Just because someone runs a business or is part of a private group or organization does not mean that she surrenders her rights or becomes a mere appendage of government. At least that's what the First Amendment says — such as it is. Freed of most restraints against government action and populated by citizens increasingly oblivious to this nation's founding principles, America is slouching into tyranny. Little by little. Day by day. This is incredibly depressing. And to see gay people lead this charge into bondage may be the saddest sight of all.
What's both ironic and confusing about this issue is that government generally has been the source of discrimination and oppression against disfavored groups.
For a long time, government criminalized gay relationships. Heck, such laws are still on the books in some places, though thankfully they're no longer enforced (though the thugs in Iran and similar places obviously haven't taken this step in societal evolution).
And don't forget that the infamous Jim Crow laws were government-imposed mandates, as Nick Gillespie explains for Reason.
From a libertarian perspective, belief in the freedom of association generally trumps belief in anti-discrimination actions by the state. …it's typically the state (whether at the local, state, or federal) that historically was doing most of the discriminating. Jim Crow was ushered in by the Supreme Court's vile "separate but equal" decision in Plessy v. Ferguson, which upheld a Louisiana state law barring railroad companies from selling first-class tickets to black customers. When businesses in the segregated South attempted to treat customers equally (often a good business strategy), they were typically hemmed in by specific laws preventing such things or by de facto laws enforced through brute force by various "citizen's councils" and terror groups such as the Ku Klux Klan (which often included politicians and law enforcement). It was government at all levels, not local businesses, that disenfranchised blacks for decades.

Tim Carney of the Washington Examiner addresses the issue, pointing out that the cultural left now wants to coerce the traditional right.
On one side is the CEO of the world's largest company, the president of the United States and a growing chunk of the Fortune 500. On the other side is a solo wedding photographer in New Mexico, a 70-year-old grandma florist in Washington and a few bakers. One side wants the state to conscript the religious businesswomen and men into participating in ceremonies that violate their beliefs. The other side wants to make it possible for religious people to live their own lives according to their consciences. …an emboldened and litigious cultural Left, unsated by its recent culture war victories, [is] trying now to conscript the defeated soldiers at gunpoint. …Tolerance isn't the goal. Religious conservatives must atone for their heretical views with acts of contrition: Bake me a cake, photograph my wedding, pay for my abortion and my contraception. In Georgia, a Catholic school employed a gay teacher. When he announced he was marrying a man, the school said this violated the expectations of public behavior they demand of their teachers. They fired him. Now the Obama administration is coming after the school.
All of this is very frustrating for principled libertarians.
There are many gay libertarians, but they don't want to coerce others into baking cakes or taking photos.
They just want to live freely without excessive government coercion.
And there also are many libertarians who are traditional Christians, but they have no desire to oppress other people or to obtain coerced approval. They just want to live freely without excessive government coercion.
Unfortunately, libertarians are the exception. There are lots of other people in the world who think they should be able to impose their values on others. Oh, well, I never claimed it was easy to be libertarian.