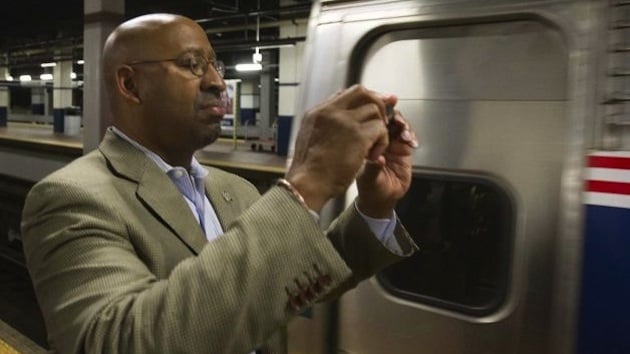 I almost feel sorry for my leftist friends. Whenever there's a story about a crazed shooter, they invariably speculate that it's someone affiliated with the Tea Party. So they must be sad when it turns out to be a random nut or in some cases a leftist.
Similarly, when the news broke a few days ago about the Amtrak derailment, they instantly decided that the crash was the result of inadequate handouts from Washington. So imagine how forlorn they must be since it turns out the bureaucrat in charge of the train was traveling at about twice the appropriate speed.
But let's set aside the tender feelings of our statist buddies and look to see whether there are any policy lessons to learn from the recent Amtrak tragedy.
Writing for National Review, Kevin Williamson makes a key point that Amtrak, like other parts of government, is first and foremost focused on maximizing the amount of money that can be extracted from taxpayers.
…everything from the stimulus bill to regular appropriations has spent billions of dollars on Amtrak, and Amtrak still failed to install the speed-control system that was supposed to be completed this year — a system that the NTSB and others believe would have prevented this accident. So, the "investments" in safety systems have produced no safety system. Where does Amtrak spend its money? Almost every dime of ticket revenue is spent on personnel — salaries, benefits, bonuses, etc.  Amtrak can't be bothered to finish up a safety system on time. But did Amtrak CEO Joseph Boardman ever miss a nickel of his $350,000-a-year salary? No. Did Amtrak fail to pay employee bonuses? No—in fact, it paid bonuses to people who weren't even eligible for them, and then refused to rescind them once it was pointed out that they were unauthorized. So Amtrak took care of Amtrak's priorities, just like every other government agency. But Amtrak's priorities are not its customers' priorities.
In other words, the culture at Amtrak is to maximize goodies from government, not to maximize profits, which is the culture at a real company.
And the beneficiaries are the overpaid bureaucrats who operate Amtrak, as well as the insiders (like Joe Biden's son) who get special appointments to Amtrak's board of directors.
So what, then, is the solution?
As explained by Jeffrey Dorfman, an economics professor at the University of Georgia, it's time to wean Amtrak from the public teat.
…within two days liberal politicians had seized on the occasion to demand larger subsidies for Amtrak. In fact, the events of last week show the precise opposite-Amtrak should not receive a larger subsidy, but rather should be sold off and privatized. Currently, Amtrak receives more than $1 billion in funding from Congress although it still manages to lose money. …This leads to the question of why Americans taxpayers should subsidize a rail service that only somewhere around one or two percent of Americans actually use. The clear and obvious answer is that they should not be. While Democratic leaders are calling for more federal funding, the problem is not a lack of subsidies but instead that Amtrak's leadership is divided between serving its customers and serving the political benefactors who provide it with about $1.4 billion per year. If Amtrak was privatized, it could focus solely on serving its customers. If those customers were concerned with safety, then Amtrak would prioritize safety improvements because that would be a necessary step to staying in business.
Moreover, Amtrak would have the incentive to behave rationally if it wasn't sponging off taxpayers.
If sold for a fairly low valuation for a railroad, Amtrak would sell for around $6.5 to $7 billion. …the federal government would save the $1.4 billion each year that it has been providing to Amtrak. After privatization, Amtrak will know that federal government subsidies are not available to it and will focus on serving its customers and turning a profit. That may mean that some routes are discontinued or continue operating with fewer scheduled trains. At the same time, some routes, such as those in the northeast corridor, may see an increase in the quality and frequency of service as Amtrak responds to the level of consumer demand in the free market.
Notwithstanding the recent accident, trains actually are very safe. And in the absence of government meddling, a private rail company would have the right incentives to produce the correct amount of investments in safety.
Train travel is already ten times safer than driving in terms of deaths per mile traveled. It is possible that riders do not want to pay more for train tickets in exchange for safety improvements. After all, Amtrak is actually ahead of many private railroads in installing the positive train control safety systems. However, if riders demand it, a private, profit-oriented railroad will provide it.
P.S. Here's a personal story to give you a sense of Amtrak's misguided culture.
P.P.S. The good news, for what it's worth, is that Amtrak is a bargain for taxpayers compared to the rail boondoggle taking place in California. And I guess we should be happy that we don't have the Chinese version of Amtrak.
P.P.P.S. Don't carry a lot of cash if you're a young black male and riding Amtrak.
[mybooktable book="global-tax-revolution-the-rise-of-tax-competition-and-the-battle-to-defend-it" display="summary" buybutton_shadowbox="true"]