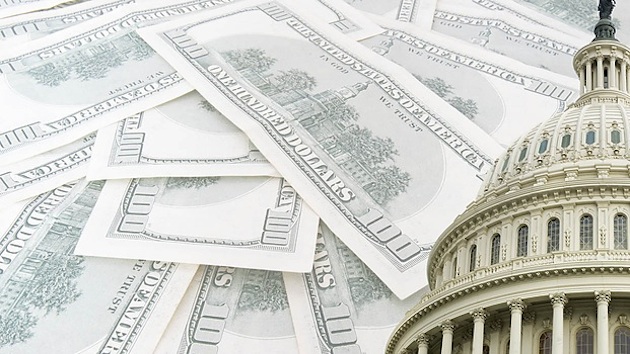 Since I'm an advocate of smaller government, you might imagine I'm perpetually depressed. After all, I work in Washington where I'm vastly outnumbered by people who specialize in looting and mooching. At times, I feel like a missionary in a house of ill repute.
But I always look for the silver lining when there's a dark cloud overhead. So while it's true that government squanders our money and violates our rights, at least we sometimes get some semi-amusing stories about sheer incompetence and staggering stupidity.
Like Detroit spending $32 to issue $30 parking tickets.
The State Department buying friends.
Or Georgia's drug warriors raiding a house because of okra plants.
FEMA house guidelines that make houses less safe in hurricanes.
Federal rules that prevent school bake sales.
Bureaucrats defecating in hallways.
Yes, I realize I also should be outraged about these examples. But I can't help being amused as well.
So let's add to our collection of bizarre, foolish, and wasteful behavior by government.
Here are some passages from a Washington Post exposé on mismanagement and waste at the federal department that is infamous for secret waiting lists that resulted in denied health care (and in some cases needless deaths) for America's veterans.
The Department of Veterans Affairs has been spending at least $6 billion a year in violation of federal contracting rules to pay for medical care and supplies, wasting taxpayer money and putting veterans at risk, according to an internal memo written by the agency's senior official for procurement. In a 35-page document addressed to VA Secretary Robert McDonald, the official accuses other agency leaders of "gross mismanagement" and making a "mockery" of federal acquisition laws that require competitive bidding and proper contracts. Jan R. Frye, deputy assistant secretary for acquisition and logistics, describes a culture of "lawlessness and chaos" at the Veterans Health Administration.
I confess that it's hard to find anything amusing about this story, but I'm worried that I might go crazy if I simply focus on how a bureaucracy gets more and more money every year, yet also manages to waste money with no negative consequences.
Or maybe I just enjoy the fact that I have a new reason to mock a wasteful government department (sorry to be redundant).
Here's an example of spending that is so silly that it's okay for all of us to laugh. Enjoy this blurb on how tax dollars are being wasted by the foreign aid bureaucracy.
American taxpayers might come down with a case of the blues when they hear about how the State Department is spending their tax dollars. According to ForeignAssistance.gov, India has requested $88,439,000 in U.S. foreign aid for the year 2015, but the State Department plans to spend additional funds on diplomacy: music diplomacy. The U.S. Mission to India is offering a $100,000 grant opportunity titled "Strengthening US-India Relations Through Jazz." Eligible applicants include public and private universities as well as non-profit organizations. …Another grant available to universities and non-profit groups is for a "Visual Exhibit on Indian Faith and Traditions in America." For $75,000, U.S. taxpayers will fund a "photographic exhibit that showcases both the ways that Indian-Americans practice their faith traditions in the United States, and the ways that Indian faith traditions have been adopted by American communities." According to the offering, "The images will capture the diversity of the Indian-American community, so that a broad range of religious traditions are depicted.
These numbers are small compared to, say, the malfeasance and waste at the Department of Veterans Affairs. But that doesn't mean we shouldn't get upset in addition to being amused.
Think about it from this perspective. The amounts being wasted in this example are equal to the entire federal tax burden for several American families.
Do any of us think it's okay to confiscate so much of their income and then have it squandered so pointlessly and irresponsibly?
Besides, the foreign aid bureaucracy is also capable of wasting huge amounts of money.
But remember that the federal government doesn't have a monopoly on foolish and stupid behavior.
Here's another example of inane government behavior. And you won't be surprised that it took place in California because, as Reason reports, it involved a raid against an establishment serving probiotic tea.
Last Friday, an undercover officer from the state's Alcohol Beverage Control (ABC) "infiltrated the temple," Vice reports, "clearing the way for a 9 PM incursion by five officers." What manner of crazy bootlegged hooch were the agents there to confiscate? Kombucha. Blueberry kombucha. For the uninitiated, kombucha is a type of carbonated, probiotic tea, popular among hipsters and health foodies. It's made by mixing regular tea, sugar, and a "symbiotic culture of bacteria and yeast" known as the "mother" and letting the whole business ferment for a few days. The end result is a somewhat vinegar-like beverage that's packed with good bacteria (à la yogurt) and ever-so-slightly alcoholic….But because the tea contains slightly above 0.5 percent alcohol, it requires a special license to sell say ABC agents, who cited a Full Circle rep for misdemeanor selling alcohol without a license.
Reminds me of the story about the federal milk police at the FDA. Or the federal bagpipe police at our borders.
Don't these bureaucrats have anything better to do with their time (and our money)?!?
P.S. How could I forget all the examples of insane anti-gun political correctness in government schools?
P.P.S. Or the examples of unconstrained stupidity at the TSA?
P.P.P.S. And the odd collection of "human rights" that governments have created.
[brid video="8397″ player="1929″ title="Mitchell Want Less Corruption Shrink the Size of Government"]
[mybooktable book="global-tax-revolution-the-rise-of-tax-competition-and-the-battle-to-defend-it" display="summary" buybutton_shadowbox="true"]