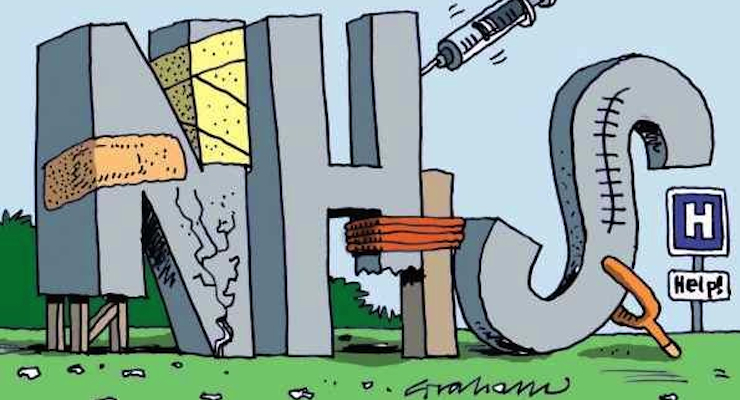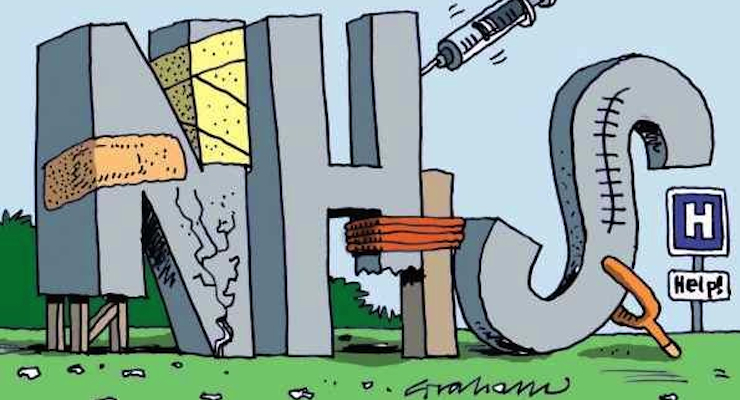 When I criticize government-run healthcare, I normally focus on programs and interventions that distort and damage the American health sector.
So I've written a lot on the failures of Medicaid, Medicare, and Obamacare, as well as the counterproductive effects of the tax code's healthcare exclusion.
But if some government is bad for the health sector, then lots of government must be even worse.
And that's exactly what we find when we peruse stories about the British National Health Service.
Here are some excerpts from a remarkable story in the U.K.-based Independent.
A London man whose leg was broken after thieves stole his bike was forced to take an Uber taxi to the hospital after he was told that his injury "wasn't serious enough" to warrant an ambulance. …Suffering from a broken leg and lying on the ground in agony, he called 999, only for the person on the other end to tell him to call the 111 non-emergency number as his injury wasn't sufficiently serious for an ambulance. Eventually, three police officers picked him up and drove him home. He then had to book an Uber taxi to take him to the hospital.
Though maybe this is an example of karma.
"That is the most disappointing thing. At the time I was incredulous. I'm always a defender of the NHS but I want to know why they didn't listen to my call properly."
Sort of like when a defender of the IRS experiences an audit.
So how does the government defend the fact that it ignored a man with a broken leg?
In a statement to the Standard, the LAS said: "From the information given us, the patient was concious and alert and had no immediately life-threatening injuries…"
Gee, how comforting. If you're about to die, they'll send an ambulance. But not for anything less than that.
I guess the National Health Service sets policy based on scenes from Monty Python movies. If you just have a "flesh wound," you're out of luck.
Some readers may be wondering if this is an isolated example of incompetence that shouldn't be used to indict the British system.
That's a fair point. Indeed, there are doubtlessly similar example of malpractice in the United States (particularly with Medicare and Medicaid) and other jurisdictions where government doesn't run the entire healthcare system.
So let's shift to a story in the U.K.-based Telegraph that is a searing critique of the overall track record of nationalized health care.
NHS delays diagnosing and treating cancer are costing up to 10,000 lives a year, experts have warned. …Britain has one of the lowest cancer survival rates in Western Europe.  Nice said too many GPs are "guessing" whether symptoms could mean cancer, with late diagnosis responsible for thousands of deaths. … Britain is eighth from bottom in league tables comparing cancer survival in 35 Western nations, latest research shows, on a par with Poland and Estonia. …Each year, the UK has around 10,000 more cancer deaths which could have been prevented, compared with similar countries in Europe.
Hmmm…, I guess I was right in my spat with a British television host.
The (potentially) good news is that there is an effort to address this terrible track record.
For the first time, GPs will be issued with checklists of symptoms to help them spot the disease, in a bid to prevent at least half of the needless deaths. …Roger Goss, from Patient Concern, said he was surprised that doctors needed to be given such advice.  "I would be quite worried if GPs don't know the basics of common cancers and what to look out for," he said.  He also said that in too many areas, family doctors were under pressure to reduce the number of patients referred for tests, in order to save money.
The last sentence in the excerpt is worrisome. One of the big problems with government-run healthcare is that everybody is playing with other people's money, and healthcare providers don't have much incentive to be efficient or to cater to the needs of patients.
Which is, unfortunately, quite similar to the problems we have in the United States thanks to pervasive government intervention, which has caused a huge third-party-payer problem.
So I'm not overly optimistic that a new set of guidelines is going to have much effect on the quality of care on the other side of the Atlantic.
Oh, I almost forgot. Why does the title of this column include the parenthetical statement about not telling Paul Krugman about these examples of horrible results in the U.K.'s government-run healthcare system?
For the simple reason that we don't want to burst his bubble. Krugman assured usback in 2009 that government-run healthcare was a good idea, writing that "In Britain, the government itself runs the hospitals and employs the doctors. We've all heard scare stories about how that works in practice; these stories are false."
So I guess these horror stories we just reviewed are just a figment of someone's imagination.
And I guess we have to also conclude that all the other horror stories we've previously shared (see here, here, here, here, here, here, here, here, here, here,here, here, here, here, here, here, here and here) also must be false.
P.S. We also have some horror stories about government-run healthcare in Sweden.
P.P.S. Though I should point out that there are good things about Sweden.
Heck, there are also good things to say about the United Kingdom.