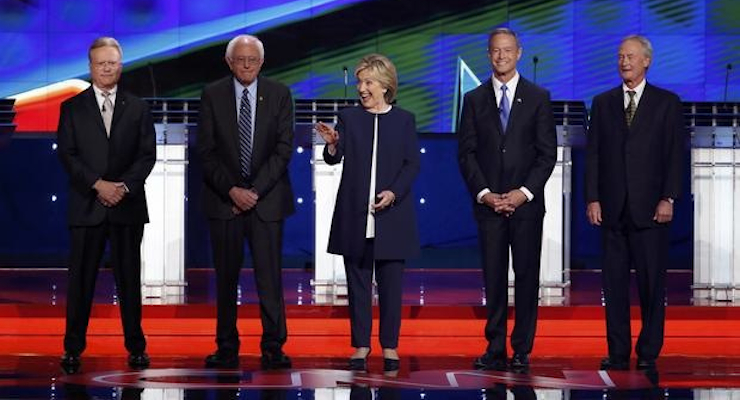 A couple of days ago, I (sort of) applauded Senator Bernie Sanders. Not for his views, which are based on primitive redistributionism, but because he challenged Republicans to state whether they support capitalism.
And I think it would be very revealing to see which GOPers were willing to openly embrace free markets, hopefully for both moral and economic reasons.
But not let's look at this issue from another perspective. Why do some folks on the left oppose capitalism?
I suppose there are several answers. Old-fashioned communists and socialists actually thought capitalism was inferior and they wanted the government to directly plan the economy, run the factories, and allocate resources.
Most leftists today admit that central planning doesn't work and you need a market-based price system, so their arguments against capitalism usually are based on two other factors.
The rich somehow exploit the poor and wind up with too big a slice of the economic pie. The solution is high tax rates and redistribution.
Capitalism is inherently unstable, causing painful recessions. The solution is to have lots of regulations to somehow prevent bad things.
I think both those arguments are misguided since the first is based on the inaccurate presumption that the economy is a fixed pie and the second overlooks the fact that government intervention almost always deserves the blame for downturns and panics.
Today, though, I want to focus on a new argument against capitalism. Some guy named Matt Bruenig recently argued in the Washington Post that capitalism is coercive. I'm not joking. This wasn't parody. He really is serious that a system based on voluntary exchange is anti-freedom.
Here are some excerpts from his column.
Capitalism is a coercive economic system that creates persistent patterns of economic deprivation. …it is well established that capitalism is fundamentally built upon threats of force. …When the physical resources necessary for production are privately held in the hands of very few, as in the United States, the majority of the population is forced to submit itself to well-financed employers in order to live.
And how does he propose to deal with the supposedly coercive nature of capitalism?
Simple, the government should give everybody money so they don't have to work
To secure freedom and prosperity for all, it may ultimately be necessary to supplement the welfare state with a universal basic income — a program that would provide all citizens with a basic level of financial support, regardless of whether they're employed. …no amount of labor regulation can ever undo the fact that workers are confronted daily with the choice between obeying a supervisor or losing all their income. The only way to break the coercion at the core of the employment relationship is to give people the genuine ability to say no to their employers. And the only way to make that feasible is to guarantee that working-age adults, at least, have some way to support themselves whether they work or not.
Wow.
I don't suppose Mr. Bruenig has thought through what happens if too many people decide to stop working so they can live off the "universal basic income."
Call me crazy, but I suspect the number of people riding in the wagon would exponentially expand while an ever-growing share people pulling the wagon would decide to "go Galt."
Of course, some leftists are smart enough to realize that somebody has to produce before the government can redistribute.
But anybody capable of writing these sentences obviously isn't moored to reality.
True freedom requires freedom from destitution and freedom from the demands of the employer. Capitalism ensures neither, but a universal basic income, if successful, could provide both.
While he's at it, why doesn't he wave his magic wand so every little boy can play major league baseball and every little girl can have a pet unicorn?
I've previously expressed skepticism about the notion of a government-guaranteed income. The fact that Mr. Bruenig thinks it's a good idea is confirmation that this idea should be rejected.
P.S. I have a Moocher Hall of Fame to celebrate disreputable deadbeats and a Bureaucrat Hall of Fame to highlight overpaid and underworked civil servants. Maybe it's time to have some sort of Hall of Fame for statists who say make really bizarre arguments. Mr. Bruenig could join Mr. Murphy, Ms. vanden Heuvel, and Mr. Yglesias as charter members.