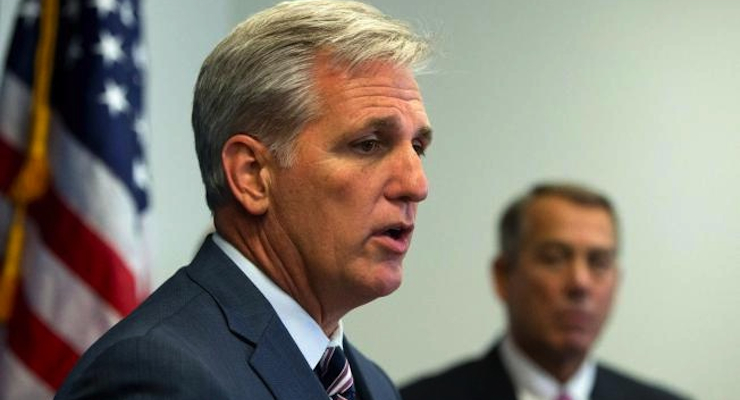 Republicans are probably going to surrender on spending caps, thus allowing Obama to reverse his biggest-ever defeat. Moreover, GOPers almost surely will get nothing in exchange for raising the debt limit, thus squandering an opportunity to limit profligacy in Washington.
So, I should be feeling very glum. And, truth be told, I am routinely frustrated by what happens in DC.
But one thing I've learned over the past three decades is that it's very hard to win battles without doing the hard work that helps to build a consensus for policy reform.
With this in mind, I'm going to express some optimism about the case for long-run spending restraint. This may seem counter intuitive given the probable defeats that will occur in the next month or two on the BCA spending caps and the debt limit.
But I'm thinking this may be Obama's last hurrah and that things will change dramatically after the 2016 elections.
My medium-term hopefulness isn't based on the election of any specific candidate. Instead, it's a reflection of the growing consensus for good policy.
For instance, Congressman Kevin Brady of Texas, writing in National Review, says that the BCA spending caps need to be expanded.
Congress's latest effort at fiscal restraint — the Budget Control Act of 2011 — targeted the one-third of federal spending that goes for discretionary programs. This act has helped to shrink Washington's budget deficit by two-thirds and shave Washington's spending by a significant three percentage points of GDP. …Unfortunately, the…Budget Control Act does not address entitlements. And without common-sense reforms, the massive uncontrolled growth in entitlements will leave America with a bleak fiscal future. …Congress must build on the success of the Budget Control Act. We need smarter, 21st-century budget guardrails… The upcoming fight over the federal debt limit gives Congress an opportunity to think smartly and act boldly by enacting a responsible spending cap that limits federal spending in relation to the size of our economy.
Congressman Brady has a specific plan to cap spending growth, and he explains that it is similar to Switzerland's very effective approach.
The Maximizing America's Prosperity Act of 2015 (MAP) would cap federal primary spending (which includes both discretionary and entitlement spending) as a percentage of potential GDP. Under MAP, primary spending would gradually decline from 19 percent of potential GDP in fiscal year 2016 to 16 percent of potential GDP over ten years. …MAP is a very prudent approach similar to the "debt brake" that has successfully capped the growth of government spending in Switzerland.
Since I've already written favorably about the Swiss Debt Brake and specifically noted that the MAP Act is the closest thing to that approach in the Untied States, it's obvious that I like spending caps.
But what about other fiscal experts in Washington?
Well, there's significant agreement on this issue.
Kevin Hassett of the American Enterprise Institute testified on the issue earlier this month.
…countries have increasingly begun to rely on specific expenditure targets… The adoption of such targets makes a great deal of sense. …Marking spending to potential GDP would be an effective way to enact budget legislation that is transparent and difficult to game. …I encourage Congress to consider adopting a budget rule that caps spending in the U.S. (other than interest payments) at some agreed upon fraction of GDP.
By the way, Kevin mentioned in his testimony that even the IMF has identified spending caps as the only effective fiscal rule.
Returning to the views of American fiscal experts, Romina Boccia of the Heritage Foundation shared favorable thoughts about spending caps in an article for The National Interest.
…how could Congress…make long-overdue spending reforms? One way is to enact spending caps in line with Congress's budget to pave the way for concrete reforms with the threat of automatic cuts. Such a statutory spending cap would encourage lawmakers to prioritize federal spending, enable them to say "no" to special interests, and help to protect American taxpayers from wasteful spending burdens. Lawmakers should build on the success of the Budget Control Act and its spending caps enforced by sequestration to motivate entitlement reforms. Rep. Kevin Brady (R-TX) recently reintroduced the Maximizing America's Prosperity Act (H.R. 2471), which would impose a statutory spending cap across all non-interest outlays, in line with the spending targets established in Congress's budget resolution.
And here's some of what Veronique de Rugy wrote for the Mercatus Center.
…the caps and accompanying sequestration enforcement mechanism have been successful in constraining the discretionary share of the federal budget. …One of the chief criticisms of the caps is that they are largely limited to the discretionary programs, which comprise an increasingly smaller share of the overall federal budget. That's a fair criticism. …policymakers should lock in these gains for taxpayers and seek to expand limits on federal funding to include more of the mandatory side of the budget.
By the way, here's a chart Veronique prepared showing how the BCA spending caps have saved taxpayers a lot of money.
From this chart, you can see why I think it's so important to preserve the spending caps and not surrender to Obama's veto threats.
But let's not dwell on potential bad developments and instead focus on the best approach, which is expanding the caps to constrain a far greater share of the federal budget.
Here are some excerpts from an article in Reason by A. Barton Hinkle, who explains how spending caps produce fiscal progress.
How do we avoid the iceberg up ahead? …sequestration has helped slow the growth of the federal government. Before it took effect, federal spending was on track to consume one-fourth of America's GDP. By last year, Washington sopped up only one-fifth of America's wealth. …there's a[n]…option that could put America in the black… Hold the growth of government spending to 2 percent per year. That's it. If Washington did only that, the federal budget would be balanced within six years. …many other advanced democracies have held their spending in similar check. Sweden, Canada, the Netherlands, and Italy did so during the 1990s; Germany, Switzerland, Israel and Taiwan did so in the 2000s. And because their economies grew somewhat faster, their government debt burdens shrank.
Wow. If you have Cato, AEI, Heritage, Mercatus, and Reason all endorsing spending caps, that's a noteworthy development. And remember that this approach also has been lauded by the International Monetary Fund, which definitely is not part of the vast right wing conspiracy. Here's the bottom line, which presumably explains the growing support for spending caps.
We have lots of examples of countries that have successfully addressed fiscal problems with multi-year periods of spending restraint. And we have further evidence that explicit spending caps are the only sure-fire way of ensuring long-run fiscal discipline.
So no wonder lots of people and institutions are joining forces in the campaign to create a successful enforcement mechanism for fiscal policy's Golden Rule. But I don't want to get cocky. Building a coalition for good policy is a necessary but not sufficient condition for reform.
I'll feel more confident about possible changes if some of the presidential candidates openly embrace spending caps and put forth plans to restrain the burden of government spending. But if we get enough people in the parade for good policy, I suspect a few politicians will suddenly see the wisdom of getting to the front of the line.