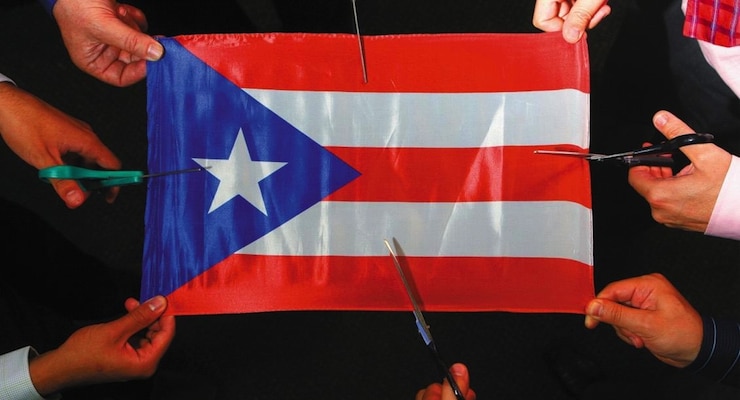 When I point out that Puerto Rico got in trouble by allowing the burden of government spending to grow faster than the private economy, thus violating my Golden Rule, honest leftists will admit that's true but then challenge me on what should happen next.
That's a very fair – and difficult – question. The amount of government debt in Puerto Rico is so large that repayment would be a big challenge. In effect, today's taxpayers and tomorrow's taxpayers would suffer because of the reckless choices of yesterday's politicians.
It could be done, to be sure, just like Greece could dig its way out of debt with a sufficient degree of spending restraint.
That being said, I'm not necessarily opposed to debt relief. Whether you call it default, restructuring, or something else, debt relief would give Puerto Rico a better chance of getting back on its feet. Moreover, I'm not exactly overflowing with sympathy for investors who lent money to Puerto Rico's profligate government. Maybe they'll be more prudent in the future if they lose some of their money today.
But here's my quandary (and I feel the same way about Greece): I don't mind debt relief if it's part of a deal that actually produces better policy.
But I'm opposed to debt relief if it simply gives an irresponsible government "fiscal space" to maintain wasteful programs and other counterproductive forms of spending.
And I see very little evidence that Puerto Rico is interested in making the needed structural reforms to alter the long-run trend of ever-rising outlays.
Nor do I see any evidence that Puerto Rican officials are pushing for much-needed reforms in areas other than fiscal policy. Where's the big push to get exempted from the Jones Act, a union-friendly piece of legislation that significantly increases the cost of shipping goods to and from the mainland? Where are the calls to get Puerto Rico an exemption from minimum wage laws that are harmful on the mainland but devastating in a less-developed economy?
These are some of the reasons why I don't want to reward Puerto Rico's feckless political class by granting debt relief.
And here's something else to add to the list. Notwithstanding 40 centuries of evidence that price controls are a form of economic malpractice, the government has decided to use coercion to prohibit voluntary transactions between consenting adults.
The excuse is the Zika virus, but the result will be failure. Here's some of whatCNN is reporting.
The government of Puerto Rico has ordered a price freeze on condoms… Any store that hikes prices to try to capitalize on people's fears of the virus will be fined up to $10,000. Other items on the price-freeze list: insect repellent, hand sanitizer and tissues. …The price gauging [sic] ban went into effect at the end of January on mosquito repellents. Condoms were added to the list in early February… "The price freeze remains in effect until after the emergency is over," Nery Adames, Secretary of the Department of Consumer Affairs, tells CNN.
By the way, you'll notice that the government didn't address the one thing it legitimately could have done to reduce condom prices.
Condoms are subject to the island's 11.5% sales tax, one of the highest in the nation.
But let's focus on the policy of price controls.
With his usual clarity, Professor Don Boudreaux explains the consequences of these horrid restrictions on market forces.
 The price freeze will prevent the Zika-inspired rise in the demand for condoms from calling forth an increase in the quantity of condoms supplied to satisfy that higher demand.  The resulting shortage of condoms will prompt some people to wait in queues to buy condoms, cause other people to turn to black-market suppliers, and cause yet other people simply to not use condoms during sex.  Each of these consequences reflects the reality that the price freeze, rather than keeping the cost of condoms "cheap," will raise that cost inordinately – and, in the process, further promote the spread of Zika.
Amen. Don is spot on about the negative consequences of allowing politicians and bureaucrats to interfere with market prices.
So, we have a government "solution" that actually makes a problem worse.
Just as price controls have contributed toeconomic misery in Venezuela. Or caused shortages after hurricanes in the United States. Puerto Rico needs its version of Ludwig Erhard. Instead, it's governed by people who apparently learned economics from Hugo Chavez.
[mybooktable book="global-tax-revolution-the-rise-of-tax-competition-and-the-battle-to-defend-it" display="summary" buybutton_shadowbox="true"]