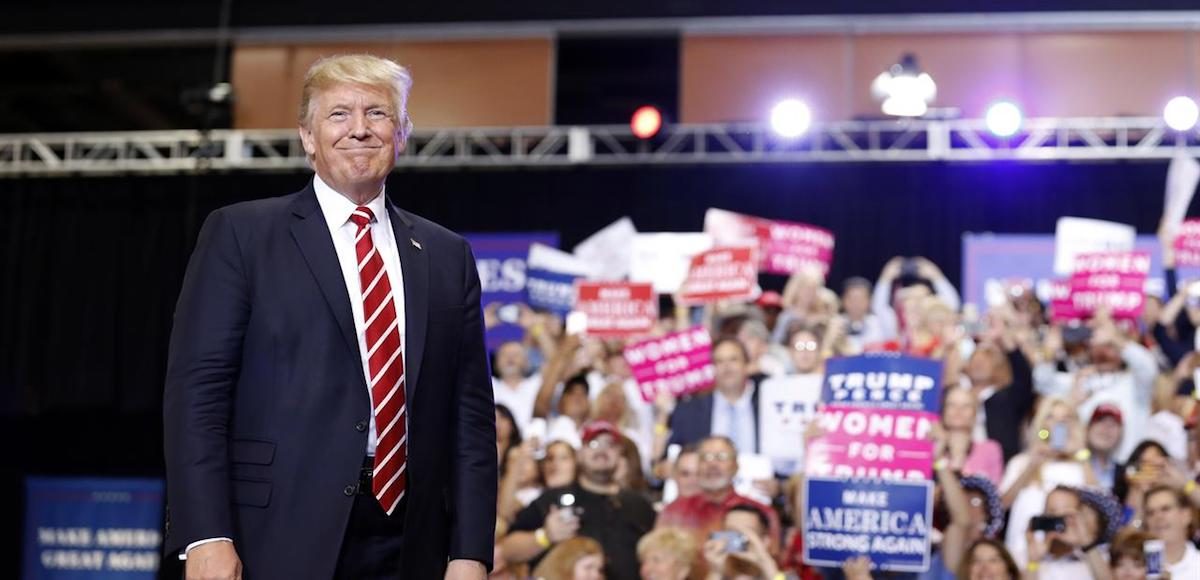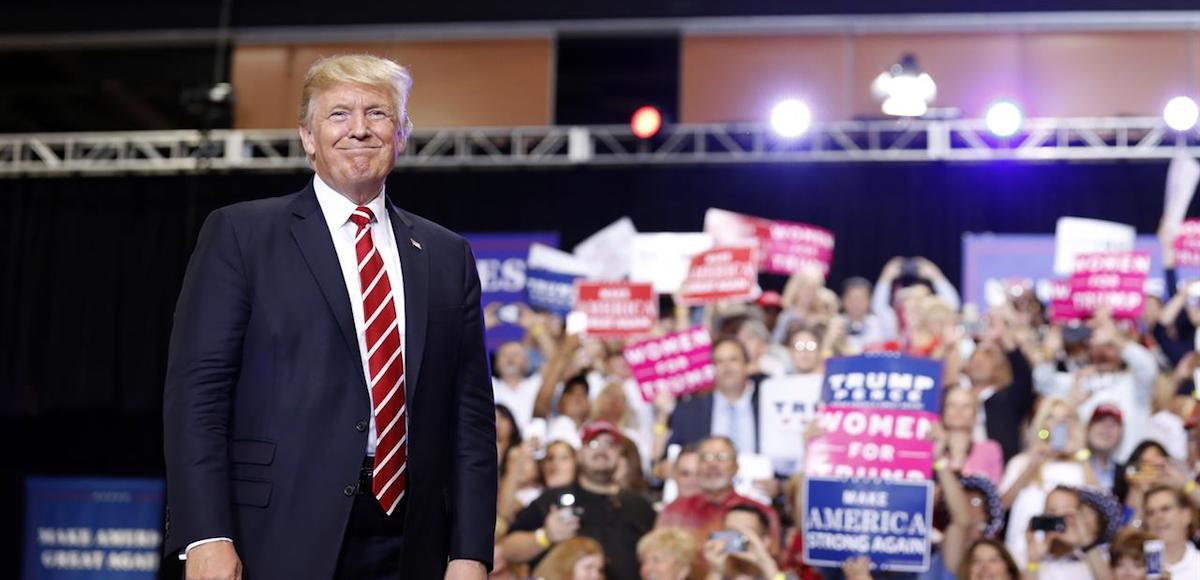 President Donald Trump said during a rally at the Phoenix Convention Center last Tuesday that he is willing to gamble with the debt ceiling to secure funding for The Wall. Of course, it isn't really that much of a gamble.
The hysteria that emanates out of Capitol Hill each time the federal government approaches its "debt limit" is not justified by facts and data, as People's Pundit Daily recently demonstrated. In truth, the U.S. Treasury Department will collect more than 10 times as much revenue as is needed to fulfill the nation's debt obligations.
Nevertheless, Republican lawmakers claim to represent everyone outside of D.C., New York and Los Angeles–or, the "fly over" country–but they don't have anymore of a direct line to them than their friends across the aisle.
Exhibit A: In 2013, Sen. Ted Cruz, R-Tx., led the fight to defund ObamaCare. His Establishment Republican colleagues responded by literally calling him and other Senate conservatives names. They claimed he was leading the party to an electoral disaster before an otherwise favorable cycle.
But he and a handful of others didn't budge. The federal government shut down for 16 days and Republicans were blamed for it.
What happened? It was a bloodbath… for the Democratic Party.
In 2014, they ended up with the largest Republican majority in the U.S. House of Representatives since 1928 and won a historic 9-seat blowout in the U.S. Senate. Astonishingly, Republicans are in danger of squandering those electoral gains because they have thus far failed to make good on a 7-year promise to repeal ObamaCare, something GOPe leaders obviously had no intention of doing.
Exhibit B: Even after President Trump smashed through the Blue Wall in the Rust Belt running on an "immigration is economics" platform, Republicans continue to look to the Washington Post for electoral guidance.
The PPD Big Data Poll has found a solid 56-percent majority on average supports the President's request to fund a border wall. But that hasn't caught the attention of their allegedly representative government.
The term "tone-deaf" does not adequately describe the disconnect. The only gauge lawmakers have to weigh the impact of supporting or opposing a policy are headlines written by people who don't live in real America or contradictory polls conducted for media outlets with a political agenda.
eVoiceAmerica, an internet take-action site, wants to ensure D.C. lawmakers have no choice but to care what Americans want. They say it's time lawmakers rethink how they make these decisions because, once you leave the ballot box in November, your influence is replaced with special interest.
"We no longer have to rely on hollow Washington promises of transparency," Dee Boyack Jeffries, co-inventor and co-founder of eVoiceAmerica.com said. "eVoice provides that transparency."
Rather than bombarding congressional offices with calls they largely ignore, Americans can research and vote on issues before their elected representatives do. They can rate the importance of a particular issue and even write a brief opinion.
eVoiceAmerica collects those responses, compiles them and emails the data to lawmakers in a daily report. Users can email any number of personal opinions to one or all of their elected lawmakers' official inboxes.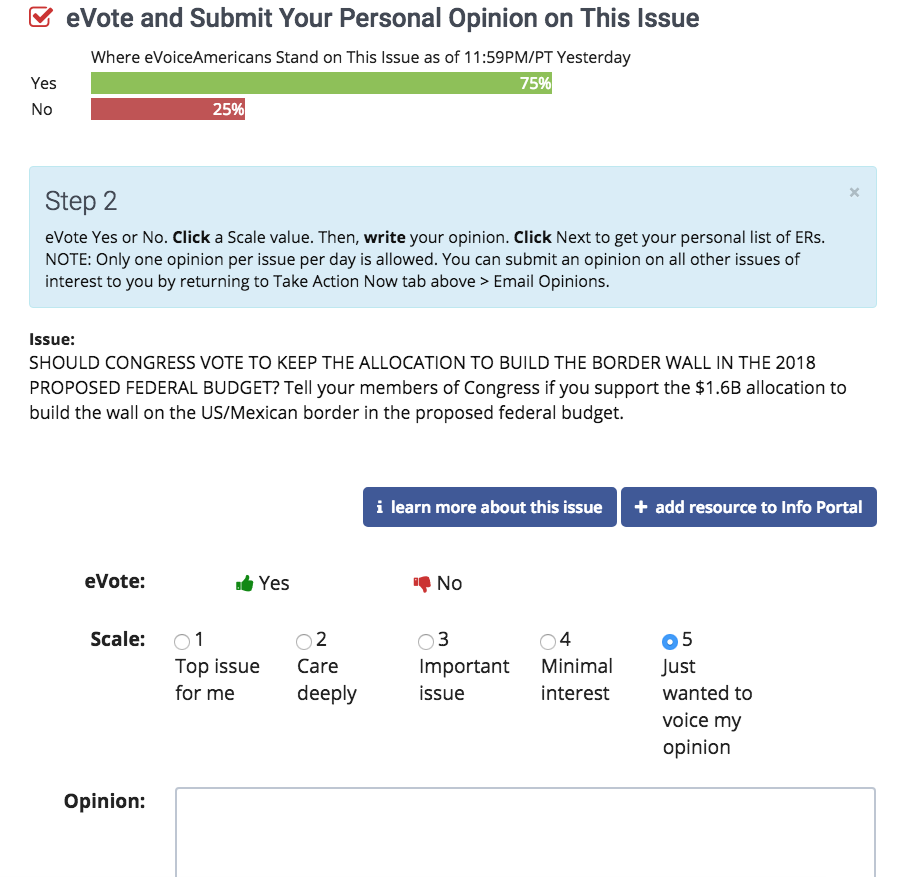 While the Old Guard in both parties want to return to the pre-Trump status quo, PPD did find several rank-and-file members actually prefer this method. Reps. Ron DeSantis, R-Fla., and Brian Mast, R-Fla., say it's a great way for Americans to diminish the influence of Big Media and K Street on Capitol Hill. They understand bombarding congressional offices with phone calls just doesn't have the impact it once did.
If you want lawmakers to hear your voice, visit eVoiceAmerica and tell them whether or not you agree with the President on The Wall, or other issues. eVoiceAmerica is non-partisan, which intends only to reflect the values and positions of the majority of American people.