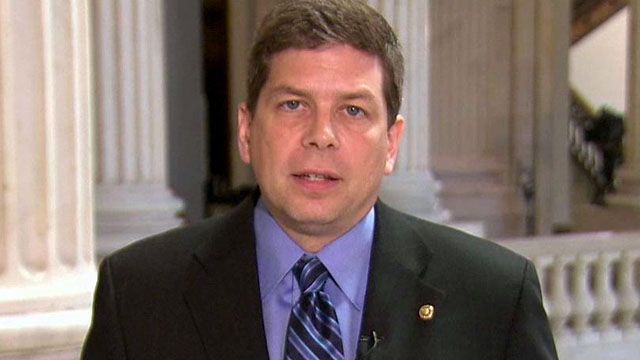 The latest round of Alaska Senate polls are beginning to reflect the grim political reality for Mark Begich, who is either tied or behind 2 out of 3 his Republican challengers. Interestingly, either Rasmussen Reports did not release or did not conduct a hypothetical matchup between Democrat Mark Begich and 2010 Republican nominee Joe Miller.
Nevertheless, according to a new survey by Rasmussen, Lieutenant Governor Mead Treadwell leads incumbent Democrat Senator Mark Begich 47 percent to 43 percent, while former Natural Resources Commissioner and Attorney General Dan Sullivan ties Begich at 44 percent of the vote.
Despite the Republican primary not yet being concluded, the Alaska Senate race is rated "Leans Republican" on our 2014 Senate Map Predictions, and according to our model, the 44 percent Begich earns against Sullivan is likely close to his ceiling of support. This is relatively confirmed when only 3 percent would choose some other candidate in the race, and only 6 percent are undecided so early in the race. Though we rate Rasmussen a 3.5 out of 4 for past accuracy, he is likely close to the mark.
The pollster did not return a request for a comment, as of yet, but it is unclear whether or not omitting Joe Miller was intentional or harmless. As I previously examined, Joe Miller has a path to the nomination, particularly if Treadwell and Sullivan cannot coalesce the Establishment vote. Miller has a dedicated group of followers who justifiably feel slighted by the Establishment and, as I have also noted prior, Alaska Senate polls are notoriously inaccurate.
Treadwell, who many believed to be the early favorite, may still be leading in the Rasmussen poll, but there is little doubt that some of the race dynamics have not gone his way. He benefits from name recognition and being well-liked, but recent endorsements have gone to his fellow-Republicans.
"Dan Sullivan is a fiscal conservative with a stellar track record in Alaska and we strongly endorse him for the United States Senate." said Club for Growth President Chris Chocola in an email to supporters. Admittedly, it was a bit surprising to see the Club for Growth endorse Dan Sullivan, but it didn't seem to surprise Joe Miller.
"It is unfortunate that Club for Growth would insert themselves into a contested primary to work against advocates of the free market," Miller said. "But I never expected to be K Street's candidate. We won the 2010 primary without their help, and we expect to do it again."
Miller racked up the endorsement of the National Association for Gun Rights PAC (NAGR), adding to an already solid Pro-Second Amendment resume, including the endorsement of the Gun Owners of America. Miller also recieved an "A" rating from the National Rifle Association.
Still, Dan Sullivan is in the money lead, with the bulk of Super PAC attacks on behalf of Mark Begich targeting him. From March 13 to March 21, alone, the pro-Begich group, Put Alaska First PAC, has spent over $150,000 in attack ads, and nearly $380,000 as of March 24, according to OpenSecrets.org.
Begich has done much to distance himself from President Obama, who has an approval rating of around 30 percent in a state Gallup measured to have the sixth most conservative leanings in the country. Despite Begich cozying up to big oil, as well as other hypocritical connections, Alaska is a heavy lift even for an incumbent Democrat and continues to move to right in recent years. Begich boasts defeating scandal-laden Senator Ted Stevens in 2008 — a Democratic wave election no less — by under just 4,000 votes.
In a deeply red state with a PVI of R+12, which Mitt Romney easily won by 13 points, the latest Alaska Senate polls are just catching up to the reality of this race, which is that Mark Begich is in big, big trouble.
The survey of 750 Likely Voters in Alaska was conducted on March 19-20, 2014 by Rasmussen Reports. The margin of sampling error is +/- 4 percentage points with a 95% level of confidence.