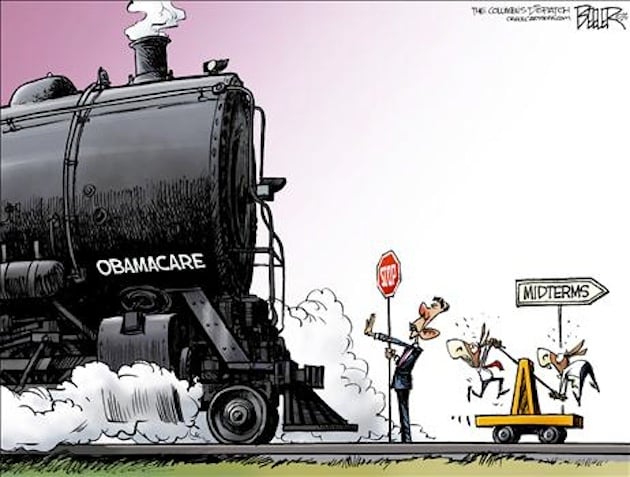 A new poll confirms what most pundits have been claiming all along, which is that ObamaCare will play big in the 2014 midterms this November. A new Fox News poll found that by a 53-39 percent margin, voters say they would back the anti-ObamaCare candidate, and all the enthusiasm is on the side of the Republicans.
Republicans, at 36 percent, are more likely than Democrats (25 percent) and independents (25 percent) to say they are "extremely" interested in the 2014 midterm elections. Independents are far more aligned with Republicans this year, with a whopping 25 percentage-point margin — 54-29 percent — saying they will vote against a candidate who supports the president's signature health care law.
Speaking of which, a 51-percent majority believes that 20 years from now ObamaCare will be seen as "one of the worst" things Obama did as president, while just 37 percent say it will be seen as "one of the best things" Obama did. Nearly 1 in 5 Democrats side with 81 percent of Republicans and 56 percent of independents.
The number of voters who say ObamaCare will be the "single most important factor" has more than doubled since 2012, fueled by a doubling of Republicans who have refocused their attention to the government overhaul of health care.
Overall, voters say they disapprove of ObamaCare, with 39 percent approving and 56 percent disapproving. While recent Gallup and Rasmussen surveys found a slight uptick in approval, the new Fox News poll is in line with recent surveys from USA Today/Pew Research (37-50), Quinnipiac University (41-55) and Reason-Rupe/PSRAI (36-53). The current PPD average of polls finds just 41 percent approval to 53 disapproval, which includes a recent ABC/WaPo survey that resulted in a downgrade due to the pollster's tendency to be an outlier.
Republicans led in the generic ballot with 44 percent to 41 percent for the Democratic candidate, though Democrats still lead on the PPD average by a .8-point margin (Update: Rasmussen weekly tracking released hours after this article was first published found Republicans ahead 41 percent to 40 percent).
The Fox News poll is based on landline and cell phone interviews with 1,012 randomly chosen registered voters nationwide and was conducted under the joint direction of Anderson Robbins Research (D) and Shaw & Company Research (R) from April 13-15, 2014. The full poll has a margin of sampling error of plus or minus three percentage points.