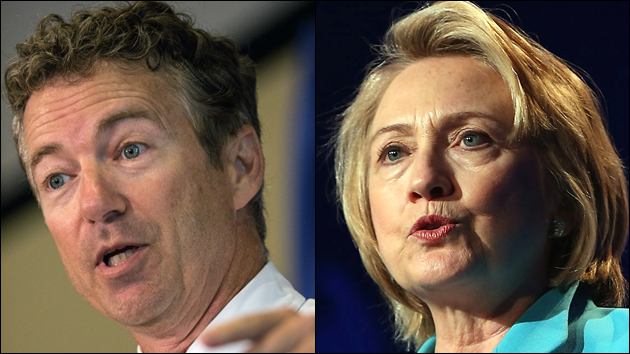 The state of Colorado has swung from a solidly Republican state over a decade ago to a Democratic-leaning state in recent elections. If Republicans want to take back the White House in 2016 they must appeal to nontraditional GOP voters in states like Colorado, and Rand Paul is the only candidate with potential to do so.
According to a new poll from Quinnipiac University, libertarian-leaning Sen. Rand Paul is the only potential 2016 Republican presidential candidate to lead Hillary Clinton in the battleground state of Colorado. Recently big GOP donors and other establishment forces have questioned Paul's electability, opting instead to "draft" former Florida Gov. Jeb Bush. But, not only does Paul have a statistically significant lead, he is the only Republican candidate to have consistently held a lead over Clinton in the state.
TREND: If the election for President were being held today, and the candidates were Hillary Clinton the Democrat and Rand Paul the Republican, for whom would you vote?
                     Apr 24  Feb 06  Nov 20
                     2014    2014    2013
 
Clinton              43      43      44
Paul                 48      47      47
SMONE ELSE(VOL)       1       2       1
WLDN'T VOTE(VOL)      1       2       3
DK/NA                 7       7       5
Paul carries independents 48 to 37 percent, while leading Clinton in every demographic age group save the coveted 18 — 29 bloc, which is all tied up at 43 percent. Republican candidates have struggles with the youth vote in recent elections, which has been a large part of Paul's message to the party over the last several years. Paul has made an effort to reach out to younger voters, including a speech at UC Berkeley, which was an event hosted by the Berkeley Forum student organization. Senator Paul fired up the crowd when he spoke about his class-action lawsuit against the Obama administration and the National Security Agency.
"The road to the White House has many twists and turns, but right now, U.S. Sen. Rand Paul is the man to beat in Colorado," said Tim Malloy, assistant director of the Quinnipiac University poll.
While there is a large gender gap, with men backing Paul by a 55 – 35 percent margin, he holds the margin among women supporting Clinton to 50 – 40 percent.
Colorado voters also currently disapprove of the job President Obama is doing by a 59 – 38 percent margin, which will have huge implications on the Colorado Senate race. Incumbent Democrat Sen. Mark Udall is struggling with reelection, earning just 45 percent to 44 percent for Republican Rep. Cory Gardner. We moved the Colorado Senate race from "Leans Democrat" to "Toss-Up" on our 2014 Senate Map Predictions following the entrance of Cory Gardner, a talented conservative who is a proven, strong campaigner and fundraiser.
Even though Udall holds a 1-point lead, inside the numbers from Quinnipiac is painful and daunting for Udall. Voters who list the economy as their number one concern support Cory Gardner over Mark Udall by a large 53 – 40 percent margin, while voters who cite health care back Gardner by a larger 57 – 36 percent. Considering those two issues are the top concerns of Coloradans, Udall is in big trouble.
"In a race that is both too close to call and one of the prime targets for Republicans trying to take back the Senate, Colorado Sen. Mark Udall might best focus on one predominant concern – the economy," said Malloy.
It is worth mentioning, as well, that Clinton leads former Florida Gov. Jeb Bush by 45 – 40 percent, or by the same margin Paul tops her. A major difference, however, is that Paul is closer to topping the ever-important 50 percent threshold.