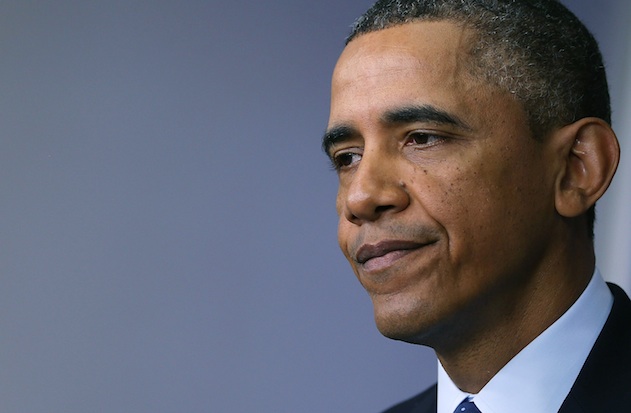 In what is the latest in a vast amount of polling data showing Democrats headed for perilous defeat in November, Gallup found a near identical voter sentiment brewing in 2014 that was present in 2010.
According to Gallup, exactly 3 in 10 registered voters say when they vote for a candidate in the fall midterm elections, it will be to send a message that they oppose President Obama, identical to the number of voters who said the same before the Republicans handed Democrats a historic "shellacking" in November, 2010. Further, just 24 percent say they will be voting to support Obama, also nearly identical to data from 2010.
Midterm elections that occur in a president's second term, historically, end badly for the president' party, dubbed the "six-year itch." Yet, even though the findings were similar to President Bush's 2006 midterm election defeat, Obama is clearly more polarizing than either Bush or Clinton. A 54-percent majority of voters say they will vote to send a message of support (24 percent) or opposition (30 percent) to Obama, but less than a majority said the same in midterm polls before the two other former presidents' parties faced the voters.
Put this all together, and Gallup is basically measuring intensity, which is clearly and overwhelmingly moving against Obama and the Democratic Party. As I have hammered over and over, there is a strong relationship between presidential approval rating and midterm election outcomes, particularly since the 1980s. In this area, too, it is all bad news. Obama's late October approval rating according to Gallup was 45 percent, slightly higher than it is now in the PPD average of polls, yet his approval never hung in the low 40s – to high 30s for more than a few short days in 2010.
I recently and previously compared generic ballot results and presidential approval ratings from two other pollsters for 2010 and 2014 — CNN/Opinion Research and Pew Research — which both posted far better numbers for Obama in 2010.
In the USA Today/Pew poll, just 16 percent of voters said their vote for Congress will be a vote for Obama, but 26 percent said their vote will be against Obama. CNN asked the question slightly different, but found the same trend.
In September, 2010, 19 percent said their vote would be meant to send a message that they support Obama, while 26 percent said their vote was meant to send a message they oppose him. Now, the margin is a nearly identical 20 – 25 percent in opposition to the president's policies.
Voter intensity, as we have consistently seen in prior polling, is dominated by the right this cycle. Now, Gallup has added even more confirmation to the conclusion I reached months ago: The trend, as of now, which I anticipate to continue along with the fundamentals, bodes bad for Democratic candidates and the party's ability to hold the U.S. Senate. Soon I will be updating the generic ballot analysis and the 2014 Senate Map Predictions to further reflect the political reality.