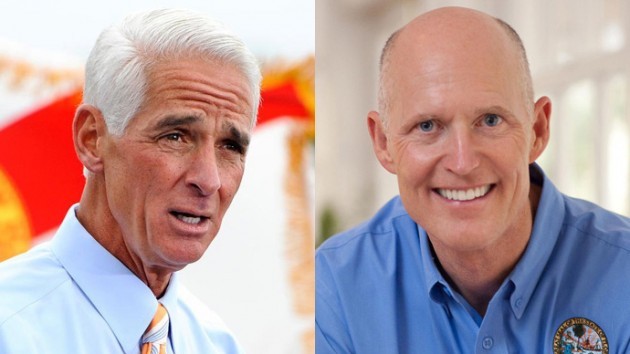 A new Miami Herald/El Nuevo Herald poll conducted solely on the Miami-Dade's electorate shows weak support in the Democratic stronghold for Charlie Crist. While verall, Crist leads Gov. Rick Scott 47-35 percent in the Democratic stronghold, Crist has just half the support President Obama had in the region in 2012.
Crist's weak base of support is largely due to his pathetic showing among the county's Hispanic voting bloc, who currently favor the Republican 50 – 31 percent. Gov. Rick Scott is turning out to be a potential model for future Republican candidates. Scott has aggressively courted the Hispanic vote, releasing two Spanish-language TV ads and a Spanish-language radio ad in Miami-Dade and other Sunshine State markets. Lt. Gov. Carlos Lopez-Cantera, Scott's new running mate, was formerly the Miami-Dade property appraiser.
In truth, Hispanic voters have never liked or supported Charlie Crist. Even when he was a relatively popular Republican governor, prior to switching to the Democratic Party, he failed to win a majority of Hispanics. Crist was only able to carry the county once, and that was during the landslide reelection of former Gov. Jeb Bush. He was clobbered by now-Sen. and Republican Marco Rubio among Hispanics in 2010.
The issue of restricted travel to Cuba should work for Crist in theory, but his recent flip-flop in favor of ending the travel ban has hurt him more than it has helped him. Just 5 percent say they are more likely to vote for him now that he has changed his position, while 24 percent say they are less likely to support Crist.
Cuban voters who suffered under socialist policy and rule favor Gov. Scott by a wide margin, but Crist performs better among those voters who were born in the U.S. U.S.-born Cubans were evenly split between Gov. Scott and Crist, while those born on the socialist-run island back Gov. Scott over Crist by a whopping 61 – 25 percent margin.
Of all the registered Hispanics in Miami-Dade, 37 percent are Republican, 30 percent are Democrats and 32 percent have no party affiliation or belong to a third party. However, while the GOP still has an advantage on paper, they are losing ground in Miami-Dade. The same is true for the traditional Republican support for hardline positions against Cuba. Overall, there are now slightly more registered independents than Republicans, which is a pattern we have seen nationwide. A majority of independents favor Republican candidates because most are former Republicans, disenfranchised by a party without a message. Both are far outnumbered by 188,000 registered Democrats.
Nevertheless, non-Cuban Hispanics are increasing in population and in greater proportions in Miami-Dade and the rest of the county. Yet, Charlie Crist will still have an uphill battle in November, despite leading in some early polls statewide.
First, as we've previously examined, Florida Republicans vote at higher rates during mid-term elections than traditional Democratic constituencies, including Cuban voters. The Sunshine State has a large senior voting bloc, which has become the most reliable Republican constituency both in Florida and nationwide.
The Florida Governor race is rated "Leans Republican" on PPD's 2014 Governor Map Predictions.