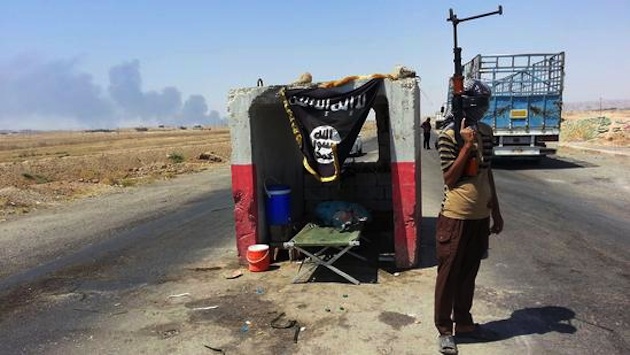 Last week, President Obama shocked the press corps when he said "we don't have a strategy yet" in regards to the ISIS Islamic threat in Iraq and Syria. In a new survey, a whopping 73 percent of likely voters are worried the president really is clueless when it comes to a strategy for combating the terror army, including 47 percent who said they are "very concerned."
The survey was conducted prior to the release of a second video depicting the beheading of American journalist Steven Sotloff by what appears to be the same ISIS executioner. Last week, the administration confirmed American journalist James Foley was in fact the man beheaded in a video entitled, "A Message to America."
While just 30 percent support sending troops back to Iraq to defeat ISIS, that's up from 12 percent measured last December, and opposition to sending troops back to Iraq has fallen dramatically. In December, 71 percent were opposed, but a significantly lower 58 percent said the same a month ago. Now, just 41 percent say they are opposed, while a sizable 29 percent are undecided.
The trend is interesting when you consider the criticisms leveled on Obama from both the right and left. President Obama has refused or shown to be incapable of playing the role a commander-in-chief has historically played in periods of U.S. foreign crisis. Even though Americans have always been skeptical of war, they equally hate instability and failure to confront shared enemies. The role of a president, in large part, is to rally the public and increase support for what are labeled necessary military actions.
If we compare support for ground troops in Iraq in 2014 with past conflict, including the first Gulf War, support is relatively high. The general exception to the rule was in the aftermath of the attacks on Sept. 11, 2001, when support for action in Afghanistan was nearly as high as President George W. Bush's 90 percent approval rating. Support for the Iraq War in 2003 began roughly around the same levels, but support increased as Bush filled the traditional role of a wartime U.S. president.
Voter interest and engagement is now very high, with 79 percent of voters saying they have been following recent news reports about the fighting in Iraq and Syria, including 45 percent who have been following the events "very closely."
Meanwhile, as usual, party affiliation is directly related to sentiment, as just 52 percent of Democrats consider ISIS a serious threat to the United States. That compares to 82 percent of Republicans and 70 percent of voters not affiliated with either major party who agree.
Further, Democrats are much less concerned about the president's lack of a strategy for dealing with the radical Islamic group. So much for politics ending at the water's edge.
The survey of 1,000 Likely Voters was conducted on August 30-31, 2014 by Rasmussen Reports. The margin of sampling error is +/- 3 percentage points with a 95 percent level of confidence.