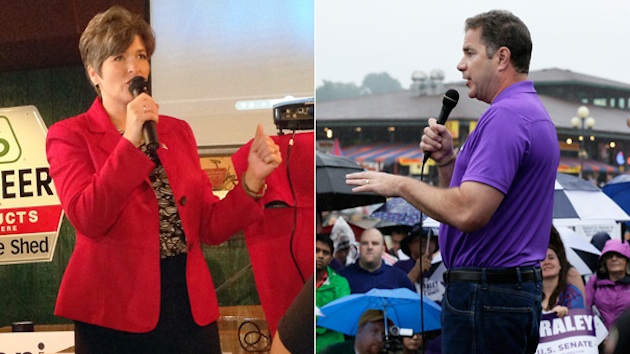 In their first likely voter survey, the independent Quinnipiac University Poll puts Republican Joni Ernst up over Democrat Rep. Bruce Braley by 6 points, 50 – 44 percent. With Ernst at the crucial 50-percent threshold in a credible survey conducted by a pollster with a better-than-average rating on PPD's pollster scorecard and, with less than 50 days until Election Day, the GOP's chances of victory in the race to replace U.S. Sen. Tom Harkin in Iowa has increased.
There are several key factors fueling Ernst's lead in the latest Quinnipiac Poll.
The Gender Gap
Joni Ernst, who appears posed to make history by becoming the first woman senator elected by the state of Iowa, leads among men 56 – 39 percent, while Bruce Braley leads among women by a much narrower 50 – 44 percent margin. Democrats have not had the success that they have enjoyed in other states over women's issues, such as in Colorado where vulnerable incumbent Democrat Mark Udall has a real chance of surviving against a challenge from Cory Gardner.
Independents
"The tale of independent voters tells you all you need to know about the Iowa Senate race," said Peter A. Brown, assistant director of the Quinnipiac University poll. Ernst leads 50 – 43 percent among independent voters, while solidying her base to the tune of 87 – 7 percent. Meanwhile Braley also locks his base by a 90 – 7 percent margin, which is still not enough based on voter registration and historical voting patterns.
What will pose a significant challenge for Braley going forward, assuming these numbers are correct, is that 15 percent of Iowa voters say they might change their mind, but 84 percent say their mind is made up.
Bottom Line
When we look inside the numbers, the explanation lays in like-ability and believability. We wrote back in March that Braley had a serious problem: The more Iowans learned about him, the less they liked him. That appears to be weighing him down now. Iowans by a 45 – 39 percent margin say they have a favorable opinion of Ernst, but Braley gets a negative 38 – 41 percent favorability rating.
Iowans, whom we have noted for months prefer a Senate controlled by Republicans, simply find Ernst more believable and personable. Perhaps it was the first video in which Braley was caught trashing Iowa's favorite senator and his former profession as a farmer, or perhaps it was the second video in which he is caught falsely claiming to a voter he is a farmer. Nevertheless, the indicators are grim.
Iowa likely voters favor the Republican on key character traits:
Ernst is honest and trustworthy, voters say 55 – 28 percent, well ahead of Braley's 45 – 36 percent.
Ernst cares about their needs and problems, voters say 52 – 37 percent, edging Braley's 48 – 37 percent.
Ernst has strong leadership qualities, voters say 60 – 25 percent, ahead of Braley's 48 – 34 percent leadership measure.
"Sen. Ernst's television commercials and campaign have presented her as a born and bred Iowan, who never lost her farm girl values. She should pay her strategists and media folks quite well because up until now they have sold that message effectively," Peter Brown added. "The fact that more voters think she cares about their needs than does Braley is telling. That is a measurement that many Republicans, even winning GOPers, lose."
While other recent surveys of likely voters find a slight Braley lead or a statistical tie, only the CNN/Opinion Research Poll uses methodologies that we refer to as the "Gold Standard" in polling. From September 10 – 15, Quinnipiac University surveyed 1,167 likely voters with a margin of error of +/- 2.9 percentage points. Quinnipiac has a near-stellar rating for performance and accuracy on PPD's pollster scorecard, no doubt due to the fact live interviewers call land lines and cell phones, and appear to have found a relatively solid proportion for both.
The Iowa Senate race is rated a "Toss-Up" on PPD's 2014 Senate Map Predictions model. Democrats had thought they had a lock on