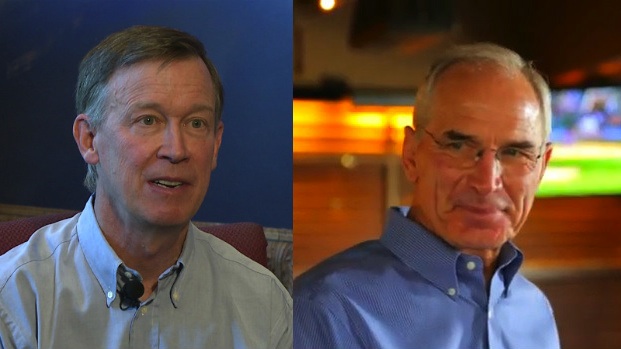 Incumbent Colorado Governor John Hickenlooper is trailing Republican Bob Beauprez by double-digits in the first likely voter survey conducted by independent pollster Quinnipiac University. Beauprez ties Hickenlooper among women and leads the vulnerable Democrat among all likely voters 50 – 40 percent, according to a Quinnipiac University poll released Wednesday.
With under 50 days to go before Election Day and Beauprez with a commanding lead at the 50-percent threshold — particularly in a credible survey conducted by a pollster with a better-than-average rating on PPD's pollster scorecard — Hickenlooper appears to be in deep, deep trouble.
"Pundits were predicting that Gov. Hickenlooper faced a close race for reelection. Instead, he's got a mad dash to make up a double-digit deficit," said Tim Malloy, assistant director of the Quinnipiac University Poll. "The Democrat does not get the traditional strong support from women to offset Bob Beauprez's army of support from men."
Quinnipiac surveyed third-party candidates, each of whom are currently drawing 3 percent of the vote. But when Libertarian Matthew Hess is removed from the choices provided, then Beauprez's lead increased to 52 – 40 percent. On the other hand, Hickenlooper doesn't benefit by proportion when Green Party candidate Harry Hempy is excluded, as the margin simply shifts to 51 – 41 percent in favor of Beauprez.
"Hickenlooper's image is really suffering, and it is causing him to take a beating in the polls among likely voters as Election Day draws near," says PPD's senior political analyst Richard D. Baris. "Other polls have shown the race to be far more competitive, but we give more weight to Quinnipiac for a reason."
Baris says PPD will be re-examining the Colorado Governor race rating in light of these results, though he believes Hickenlooper is far from out of the fight. Still, the incumbents image is a real problem.
By a 49 – 31 percent margin, Colorado likely voters have a favorable opinion of Republican Bob Beauprez, while Hickenlooper has a negative 43 – 51 percent favorability.
"Colorado Gov. John Hickenlooper is behind the challenger on the key qualities voters want in a leader: honesty, caring and leadership," Malloy added. Not only does Beauprez have the advantage among these indicators, but also among those voters say are most important to their vote.
Beauprez has higher ratings than Hickenlooper in key character traits:
Voters say 52 – 28 percent that Beauprez is honest and trustworthy, compared to 48 – 44 percent for Hickenlooper;
Beauprez cares about their needs and problems, voters say 51 – 35 percent, compared to 48 percent who say Hickenlooper cares and 46 percent who say he doesn't care;
Beauprez has strong leadership qualities, voters say 59 – 23 percent, compared to 51 – 44 percent for the governor.
Beauprez holds a large 51 – 37 percent lead among independent voters. Colorado's recent move from a Red state to a Purple state stems from a change in voting behavior among independent voters in the state's suburbs, along with an increase in the Hispanic vote. However, the survey finds a jump in the number of voters who identify with the Republican Party and a lack of dominance by the Democrat among Hispanic voters.
From September 10 – 15, Quinnipiac University surveyed 1,211 likely voters with a margin of error of +/- 2.8 percentage points. Quinnipiac uses methodologies referred to as the "Gold Standard" in polling, including live interviewers calling land lines and cell phones in proper proportion. They have a near-stellar rating on PPD's pollster scorecard.
The Colorado Governor race is rated a "Toss-Up" on PPD's 2014 Governors Map Predictions model.