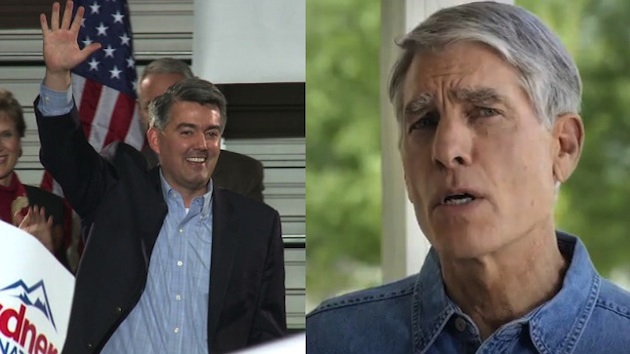 Republican Rep. Cory Gardner has surged ahead of incumbent Democrat Sen. Mark Udall in the first likely voter survey of the Colorado Senate race conducted by independent pollster Quinnipiac University. Sen. Udall trails Gardner 48 – 40 percent among likely voters, according to a Quinnipiac University poll released Thursday, while independent candidate Steve Shogan polls at 8 percent.
Quinnipiac has a near-stellar rating on PPD's pollster scorecard and, with less than 50 days left to go before Election Day, the Republican gain appears too real for Udall to dismiss. The last time we visited the Colorado Senate race for PPD's 2014 Senate Map Predictions model, when we focused on Udall's sinking numbers and mistrust on issues, we moved the race from "Leans Democrat" to a "Toss-Up" though Gardner still had a 53 percent chance of victory.
Despite millions of dollars spent by the left in an attempt to paint Gardner as extreme on social issues, the incumbent is more vulnerable now than at any other point this cycle. Let's take a look inside the numbers to see why Udall is in so much trouble.
Like-ability And Believability
"With control of the US Senate in play, the Rocky Mountain State gives a jolting shot of adrenaline to the GOP," said Tim Malloy, the assistant director of the Quinnipiac University Poll. "For Sen. Mark Udall, the head to head numbers are bad and the character numbers are worse."
Gardner scores a 47 – 37 percent net positive favorability rating among Colorado likely voters, while Sen. Udall scored a negative 42 – 50 percent net negative favorability rating. For independent Steve Shogan, 86 percent say they simply don't know enough about him to form an opinion.
In July Gardner was leading on several key issues and indicators, which since then he has built on considerably:
Voters say 54 – 28 percent that Gardner is honest and trustworthy, compared to 42 percent who say Udall is honest and trustworthy and 46 percent who say he is not;
Gardner cares about their needs and problems, voters say 51 – 37 percent, compared to Udall's 46 – 47 percent split;
The challenger has strong leadership qualities, voters say 57 – 25 percent, compared to 51 – 41 percent for the incumbent.
As Malloy puts it frequently, even successful GOP candidates typically do not lead Democrats on questions regarding empathy. This cycle, however, Democrats have struggled to keep that advantage in various states they are widely expected to lose.
"U.S. Rep. Cory Gardner, for now, is in the driver's seat in a race with National importance."
The Undeclared War On Women Isn't Working
Gardner holds a gigantic 53 – 34 percent lead over Udall among men, with 9 percent support for Shogan. Women, despite the barrage of attacks, give just 46 percent for Udall, while supporting Gardner at 43 percent and 7 percent for Shogan. This is perhaps the most damning set of numbers for Udall out of all the measurements because, and not even Democrat operatives would disagree with this, Udall and the Left have little more to run on other than women's issues.
The bottom line is that Udall has long-suffered from a sentiment among voters that he didn't deserve reelection, which got particularly worse after the ObamaCare debacle and revelations he tried to intimidate insurance officials to sweep cancellations under the rug. As we first predicted when Cory Gardner entered the race,
Polling Voter Intensity
Udall is attempting to run for reelection in a state where the party president has an average approval rating that currently hangs in the low 40s, among registered and likely Centennial State voters. It is precisely Obama's unpopularity that has built Gardner a much larger base — or floor if you will — of support in November. Over a third of likely voters — 37 percent — say they will cast a vote against President Obama, while just 13 percent say their vote is for him and 49 percent say it is not much of a factor.
From September 10 – 15, Quinnipiac University surveyed 1,211 likely voters with a margin of error of +/- 2.8 percentage points. By conducting live interview calls to both land lines and cell phones, with an appropriate proportion to each, Quinnipiac has earned a near-stellar rating on PPD's Pollster Scorecard. For that rating to be achieved, a pollster must not only predict the winner more than 74 percent of the time, but also within their stated margin of error.
The Colorado Senate race is rated a "Toss-Up" on PPD's 2014 Senate Map Predictions model, for now.
(Note: PPD average is calculated weighting surveys in which support for third-party candidates were also polled.)