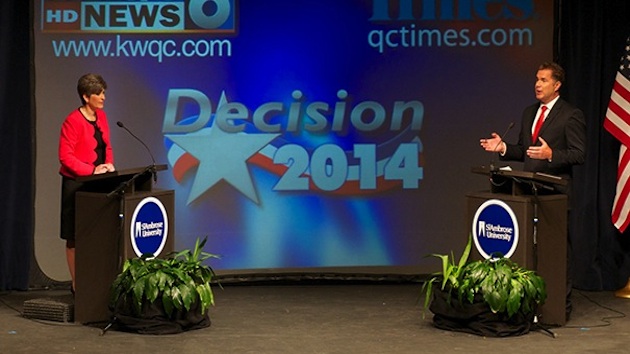 Joni Ernst opened up a 7-point lead over Democrat Bruce Braley in The Des Moines Register's final Iowa Poll before Tuesday's election, results that are now outside the margin of error and point to a Republican takeover of the U.S. Senate. If Ernst, who now leads Braley 51 – 44 percent, wins on Tuesday, Iowa will send its first women senator to the U.S. Senate in history, leaving only the state of Mississippi with that label.
"This race looks like it's decided," said J. Ann Selzer, who conducted the poll for the Register. "That said, there are enormous resources being applied to change all that."
Ernst, a state senator and military leader, now has her biggest lead in the three Iowa Polls conducted this fall. Braley, a congressman and trial lawyer, is even trailing Ernst in his own hometown and district by 3 points,
Majority Leader Harry Reid said Saturday on a conference call with progressive groups in Iowa that the state would decide the balance of power in the Senate, urging Iowa Democrats "to double down and save the Senate."
"If we win Iowa, we're going to do just fine," Reid said. "Iowa is critical, there's no other way to say it."
Independent voters broke open for Ernst in the final poll, as 51 percent to 39 percent say they will back her over Braley. Iowans also think she better reflects Iowa values, she cares more about people like them, and she's more of a regular, down-to-earth person.
Considering Braley's missteps, those results aren't at all surprising. He was caught on video belittling Iowa farmers by attacking Iowa's favorite senator, Republican Sen. Chuck Grassley. Then, in an attempt to answer a voter's question on the comment, he falsely claimed to be a farmer, which again, was caught on video.
Braley had also missed the majority of his Veterans Affairs Committee hearings, which the poll shows hurt him almost as much as the comment about Grassley.
In every election projection model — save for ours at PPD — Braley was considered the favorite in the race that has clearly slipped away from Democrats. PPD's senior political analyst, RIchard D. Baris, early and repeatedly argued that Iowans favored a Republican-controlled Senate, agreed with the GOP on the issues, and had a severe case of voters' remorse with President Obama.
"Joni Ernst was a far better candidate that other so-called pundits gave her credit for," says Baris. "Now, she is going to make them all eat their words."
He said the combination of her folksy, decisive, and down-to-earth characteristics made her a candidate others severely underestimated, including Braley.
"He ran a condescending campaign that almost put off a sense of entitlement. The seat was held by a Democrat, he was a representative, so he deserved it. That doesn't go well with voters, even if the state has a blue tint."
"He seemed to think it just didn't matter," Seltzer said of the video and Braley's half-hearted apology."That didn't do it," she added. "He never explained it."
Joni Ernst is now a 76-percent favorite to make history by becoming Iowa's first female elected senator, moving the race from Leans Republican to Likely Republican.