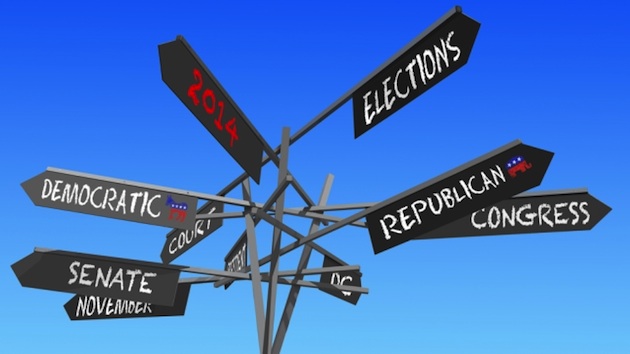 Republicans now have a party advantage over Democrats among American registered voters post-midterm elections, according to a new survey from Gallup. Americans' political allegiances have shifted toward Republicans from the 43 – 39 percent deficit they faced prior to the elections, to a slight 42 – 41 percent edge over Democrats.
The poll represents a net shift of 5 percentage points in party allegiance in favor of the GOP.
"The 2014 midterms were an unqualified success for the Republican Party," said Gallup analyst Jeffrey M. Jones. "And that success has caused Americans to view the Republican Party more favorably than the Democratic Party, as well as to say congressional Republicans should have more influence than President Barack Obama over the direction the nation takes in the next year. Americans are also now more likely to align themselves politically with the Republican Party than the Democratic Party."
While the shift if relatively modest from a historical perspective — the post-Republican Revolution shift in 1994 was 16 points — the Democrats' problems are exacerbated by their declining image.
According to a Nov. 6-9 Gallup poll, which was conducted after the Republicans wave swept away Democrats up and down the ballot across the country, a record-low 36 percent of Americans said they have a favorable opinion of the Democratic Party, down 6 percentage points from their pre-election levels, while the GOP actually inched up 2 points to 42 percent.
It was the first time in three years that the Republican Party was seen more favorably than the Democratic Party in Gallup tracking. However, what Republicans do with their new-found advantage on allegiance and popularity will largely determine how long it lasts.
"It is not clear how long these good feelings toward the GOP will last," Jones added. "That could be influenced by what Republicans do with their enhanced power."
The pre-election results are based on Gallup Daily tracking interviews with 17,259 U.S. adults, conducted between Oct. 1 and Nov. 4, while post-election interviews are based on 12,671 interviews conducted Nov. 5-30.