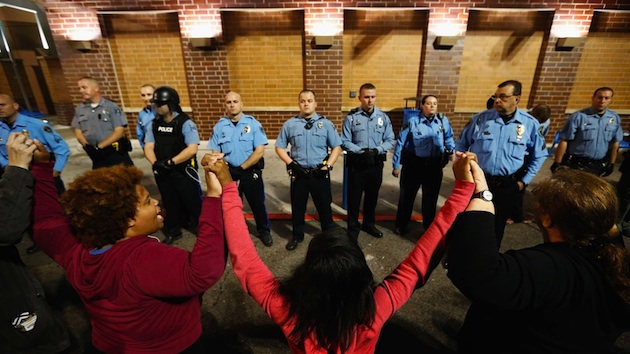 As previously examined by PPD, a large majority of Americans overwhelmingly say that their local police are their protectors and give a high favorability rating in appreciation of the job they do on a daily basis. Most also believe deaths that involve policemen are usually the fault of the suspect, not the cop.
Gallup Editor-in-Chief Frank Newport discusses the trend-line that has now led to a majority of blacks not having confidence in the police, a concerning data set that tell us a great deal about grievance.
"About one-third of blacks have a great deal or quite a lot of confidence in the police," says Newport, far less than the national average. But the data sets aren't that black and white.
On average, 57 percent of Americans have said they have "a great deal" or "quite a lot" of confidence in the police, which places the police at the top of the confidence in major U.S. institutions list. This includes confidence ratings of 61 percent among whites, 57 percent among Hispanics, and 34 percent among blacks. However, while 26 percent of blacks living in inner-cities have confidence in the police, nearly 40 percent say the same in rural America. Unfortunately, one in three blacks nationwide live in these highly urban, extremely dangerous urban counties.
(Read More: Polling Finds Americans Side With Police Over Grievance Industry)
Subscribe to PPD Unlimited to view cross-tabs, gain unlimited access to detailed information on all public opinion polls,  and much, much more!
Do you think law enforcement treatment of minorities is fair or equal? Vote Now On eVoiceAmerica!