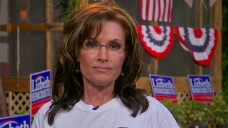 Sarah Palin appeared on "Hannity" following her guest appearance on "The Tonight Show" with new host Jimmy Fallon, where she and Fallon mocked President Obama over his handling of Ukraine. Fallon plays Russian President Vladimir Putin, who calls Palin after he learns she predicted he would invade Ukraine in 2008.
In her interview with Sean Hannity, Palin slams the new budget put forward by Budget Committee Chairman Paul Ryan (R-WI), suggesting the underlaying philosophy outlined in the proposal represented a misplaced trust in politicians and government to carry out future promises. "No, no. Bless his heart, he has more faith in politicians than I do," she said.
"I am have been in this political environment on the local, state and federal level for a long time now, and I don't trust future legislative bodies to adhere to today's legislative bodies," referring to the law's presupposition that future lawmakers wouldn't change the law when able. History shows time and again that — as far as budgets go — lawmakers change reforms every chance and the first chance they get.
Ryan previously told Hannity on his radio show Wednesday that he would — if given the chance — be able to convince Sarah Palin his new budget would balance the budget in 10 years, reform Medicare and Medicaid, reform welfare, eliminate green energy slush funds and corporate welfare. But Palin isn't buying it.
"Ultimately, what Paul Ryan's budget does is increase spending over 10 years by $1.11 trillion. That's trillion with a 'T' and that stands for trouble; trouble for our nation," Palin said, again returning to the danger of wishing and hoping future politicians abide by past law.
Both Presidents Ronald Reagan and George H.W. Bush agreed to deals with Democratic lawmakers that including the promise of leaving in place future cuts to the budget. In the case of George H.W. Bush, who agreed to a tax increase in return for spending cuts that never materialized, it cost him a second term.
Palin supports and argued for a balance budget amendment, which Reagan also supported but was railroaded by the Establishment Republicans in his own party. "That's common sense," she said. "We do that on the state level, now let's do that on the national level."